"Irresistible Humiliation" from Anastasia Pierce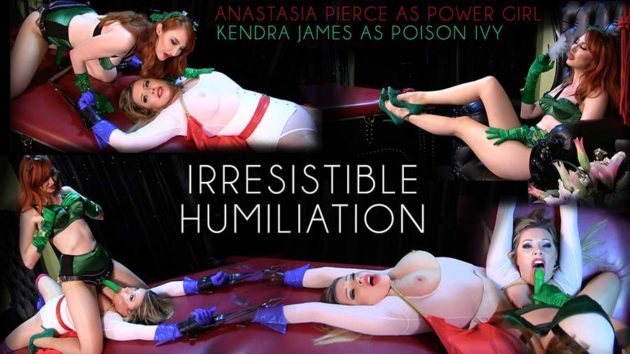 IRRESISTIBLE HUMILIATION, Power Girl vs Poison Ivy (adults only)
Only and Exclusively at www.AnastasiaClips.com
FULL HD 1920 – http://www.clips4sale.com/5196/21539273
HD 1280 – http://www.clips4sale.com/5196/21539273
Full Adventure Super Heroine Sexual Fetish Parody
Starring: Kendra James as Poison Ivy and Anastasia Pierce as Power Girl
Summary: Power Girl is on a mission to apprehend a villainess: Poison Ivy.
Unfortunately for Power Girl, Poison Ivy is prepared. All while relaxing in her lair in green satin lingerie and sheer shiny nude pantyhose smoking a black herbal cigarette. That Cigarette prove itself to be very dangerous for Power Girl. Before she realizes Power Girl is tied up and strapped to a table. Poison Ivy will join her, straddle her and start the irresistible humiliation on the super heroine. First, by stretching out the heroine to a maximum. Then by sliding a green Kryptonian Phallic Toy in Power Girl mouth to render her weak and powerless. The Kryptonian effect will also making Poison Ivy irresistible, tempting and so inviting… Power Girl will become more and more aroused as the Villainess uses her toxic charms on her. There will be more stretching out too, and more pain for Power Girl. Until her arms stretched out so far and so hard, that they nearly come out of her shoulders…
And on top of it all, Power Girl can't control herself and her senses are fully overpowered by the kryptonian phallus sliding in and out of her. Giving her compulsive orgasms!
Includes: Kendra James, Anastasia Pierce, Poison Ivy, Power Girl, Original Super Heroine costume, Shiny nude pantyhose, Long legs, thigh high boots, satin lingerie, sheer body stocking, Bondage, Humiliation, Smoking, Sensual Domination, Lesbian Domination and Sex, Strap-on, blow job, straddling, Kryptonite, Weak, Cosplay, Parody, Sex, Orgasms, Rack Stretching, Struggling, Helpless Super Heroines, Evil Villainess. No escape. Broken.