"Jane's prisoners" from FemaleKicks.com
Clip includes kicks, punches, knee kicks, two lowblows and handcuffs.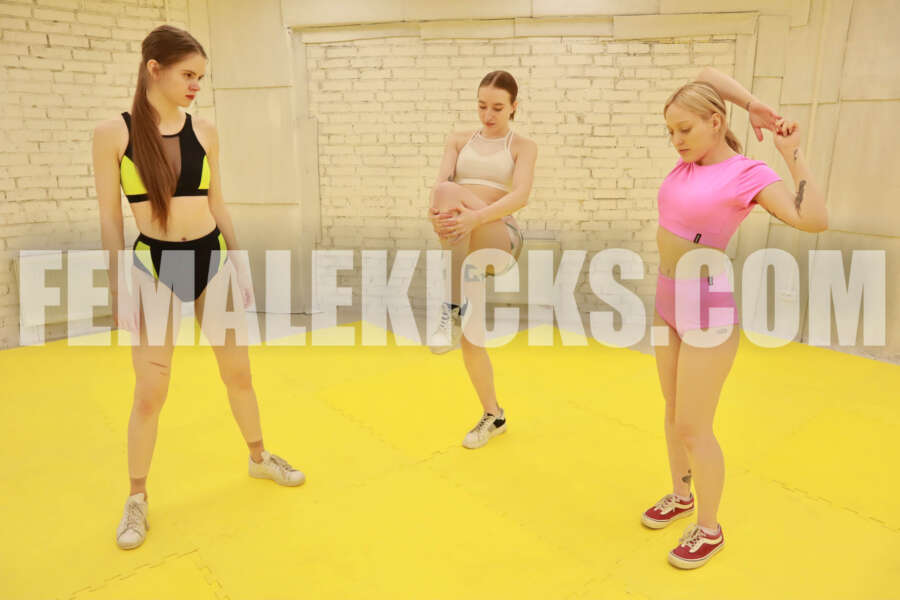 Full HD (1920-1080)
Product length: 11 minutes
Language: Russian with English subtitles
Custom clip request:
Criminals At The Gym. Jane plays the cop. Jessica and May play the criminals.
Clothes: All models wear short-sleeved work-out clothes. It does not matter what color Jane wears, but the others should wear a light color to make the handcuffs more visible. No watches. All models tie their hair back so that we can see their faces.
The dialog can be changed as long as it fits the theme. Russian is OK, as long as there are subtitles for the main dialog.
Script:
Minute 1. The women are working out in the gym. The cop stares more and more at the criminals. The criminals say WHAT ARE YOU LOOKING AT? The cop says I RECOGNIZE YOU TWO. I AM A COP AND YOU TWO BELONG IN JAIL. I AM TAKING YOU IN. The criminals reply YOU ARE TAKING YOURSELF TO THE HOSPITAL. The fight is on.
Minutes 2-3. I love your fights. You may choreograph and add dialog during the fight. The criminals have the advantage and dominate Jane.
Minutes 4-5. The cop makes her comeback and gets most of the hits in. The fight ends with Jane slamming her opponents together and they go down stunned.
Minutes 6-9. The cop gets her handcuffs and cuffs the two criminals in front nice and tight. The criminals offer a bribe to go free and Jane just laughs.
Jane calls her boss and reports success. The cop has the criminals rattle their cuffs for the boss. Not much noise but great fun.
The cop takes selfies with the captured criminals. The girls are mad but what girl can resist posing in handcuffs, especially with the middle finger. (Last time you had the cop give the middle finger, which is OK, but the criminals need to do it).
Last minute. I love a good long perp walk. Jane pushes the criminals from behind and off to jail.
Purchase this video at FemaleKicks.com