"Judge Kickass" from KickAssKandy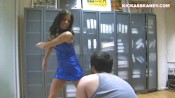 Fans of this site love girl power films. Okay—me, JadeOwl, and three other guys that come here love girl power films. But Hi-Kix is just too awesome, in my opinion, not to discuss, so check out my review of Judge Kickass, along with images and a trailer, below. 
Just as I think Claire Yellowlees was born to play a superheroine, Ella Palfrey was born to play the role of a spy girl. And I think she plays the part better than anyone in the genre. She's off the charts gorgeous, has the sexy accent thing going on, and can carry entire fight scenes even when performing on stairs in high heels.
So yeah, the emphasis on this film is girl power, but it starts differently than any KAK movie ever made. Kix comes face to face with the bad guy, hits him with several punches, and they don't really hurt him. She follows up with a bunch of kicks, and again, no real damage done. What in the name of Colonel Badass is going on here?
Turns out, Kix has been beating on bad guys all day and is a bit tired. She gets a boost of energy via liquid refreshment, and the beat down begins in earnest. You know what I'm talking about. Classic Kandy. A virtual whirlwind of kicks and punches performed by Kix in a blue dress that is so tight, they might have had to sew her into it.
So where does that leave you guys who would like to see the Kandygirls challenged like never before. It's coming. I swear to you it is. And we will cover it. Its going to come out of their custom program or through other plans that are in motion. Plans that I know just a little bit about and have no interest in spoiling. As always, Kandyman is welcome to share any information when he thinks the time is right.
One last thing. In another never before done move by KAK, this movie comes with a fourteen minute "interview" with Kix in character while she has her boot on the bad guy. Its funny she doesn't kill the bad guy in the movie, but snaps his neck in this downloadable extra. Works for me.