"Kandy of Steel" from KickAssKandy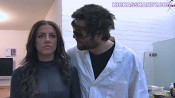 "Kickasskandy" is one of my favorite words. Or is it three words just jammed together? Whatever the case, I couldn't be happier to bring you a review of the spectacular Kandy of Steel, which features quite a bit more peril than KAK's previous productions. Enjoy my review below.
In the past, Kandyman has barely dipped his toe into the more perilous waters that readers of this site enjoy. But I'm happy to report with this film he pretty much puts his entire foot into those waters. It still is heavy on girl power but adds some elements that we rarely if ever have seen in one of their films, namely a chloroform KO, chain bondage, and mind control.
Rocking a catsuit as well as any woman can, Kix enters a building and as she ascends to each successive floor she runs into some bad guys and easily takes out every one. She eventually makes her way to a level where a scientist/doctor guy in a lab coat sneaks up from behind and uses a rag over her mouth to knock Kix out.
When Kix awakens she is rather groggy and finds herself chained to a chair. And that's when the doctor just starts to relentlessly pound on her. This is entirely new territory for Kix as a character and Ella as an actress and I think she sells the scene wonderfully. In the middle of the beating the scientist forces Kix to ingest a pill that is designed to put her under his control. And it works. Moments after swallowing the pill Kix is forced to obey his every command.
He orders her to do some simple tasks which she does without question and in a robotic like manner. But he makes a mistake when he decides to hit Kix with one more punch. A punch that knocks her off her feet but jars her loose from the effects of the pill. Actually, the power of the pill gets reversed, making her mentally stronger which has the side effect of greatly enhancing her physical abilities.
Kix then completely pounds the scientist, throws him around the room, and lifts him by the throat multiple times. He tries to strike back with a bat but it doesn't effect her in the slightest. He swings a knife at her but she catches his hand and bends the knife in half. Finally, he tries to shoot her with a gun but she literally snatches the bullets out of the air. Kix then finishes him off with another throat lift and several punches
This film should garner interest from several cross sections of the fan community. There is a peril, girl power, throat lifts, mind control, a little bondage, scenes of super strength, and for the first time ever, features a guy really pounding on a helpless Kandygirl.
When I first saw this film I assumed it was a custom. However, I was surprised when Kandyman told me that it wasn't. It was his intention to produce something that had a little more appeal to the HM crowd and I appreciate that he thought of us. It's truly a great film. I haven't decided where it falls in my list of personal favorite KAK films but I guarantee it's in the top three.
Note: The Kandy of Steel photoset is available here.