"Kickass of Prey" from Kick Ass Kandy
ARYA – CHIC, ELEGENT, GRACEFUL and VERY DEADLY.  Her mission today is to crush the local criminal underground but to do it in style. Dressed in her red catsuit and boots she's ready to save her City and teach these silly boys a big lesson.  Life would be too easy for Arya if she just had to kick bad guy ass all day long, she is after all a deadly black belt martial artist with the agility of a gymnast so she's about to rip two thugs apart with her deadly legs, fists and hard body but she's going to do it with complete finesse.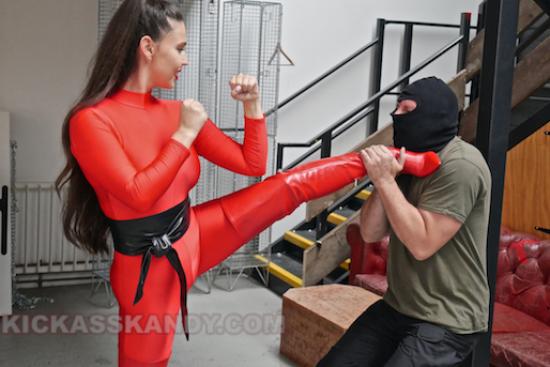 Arya is total class and confidence, some say arrogance, she toys with her prey, taking both of them on at the same time and delivers a beatdown so thorough that her City will be safe once again.  BONUS – 200 image photoset included FREE!
Purchase this video at Kick Ass Kandy