Knights of Gotham's "Busted by Bane: Wonder Woman"
Evangeline von Winters' Knights of Gotham has released a new video titled Busted by Bane: Wonder Woman, which more or less features exactly the content you might expect from the title. Check out a detailed synopsis below, as well as images from this video.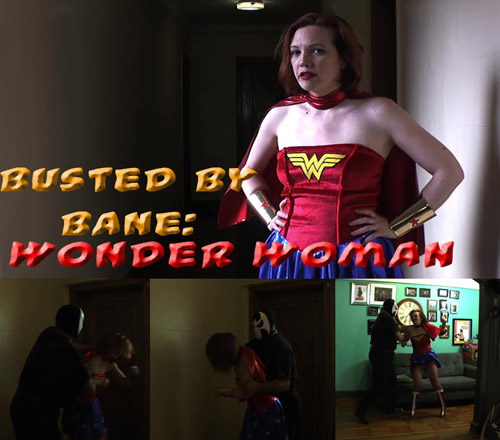 [Click above for more images]
–
Wonder Woman is searching the dark hallways of a building looking for a suspicious character. As she looks around Bane walks behind her and grabs her by the neck and throws her through a door. Now inside an apartment he proceeds to beat her. She tries to stand against him but the surprise and the constant abuse followed by his inability to be hurt by her hardest punches makes it look like a grim ending for Wonder Woman. Bane then rips a pipe from the wall and through the billowing dust that fills the room he proceeds to beat her about the head with the pipe and then focuses on her exposed crotch!
After several minutes of abuse which is increasingly one sided Wonder woman sees another chance which she takes. she manages to get her hands on the pipe and she then beats Bane, but still to no avail. He is still strong and she has spent the last of her energy! another round of crotch abuse from punches and kicks before Bane become aroused by this mighty womans ability to take punishment without dying. he begins to fondle her and then suddenly forces her face into his crotch, taking pleasure from her mouth. But She has one final plan which she can only hope will work…