"Live at 5!" from Cali Logan
Cali Logan presents Live at 5!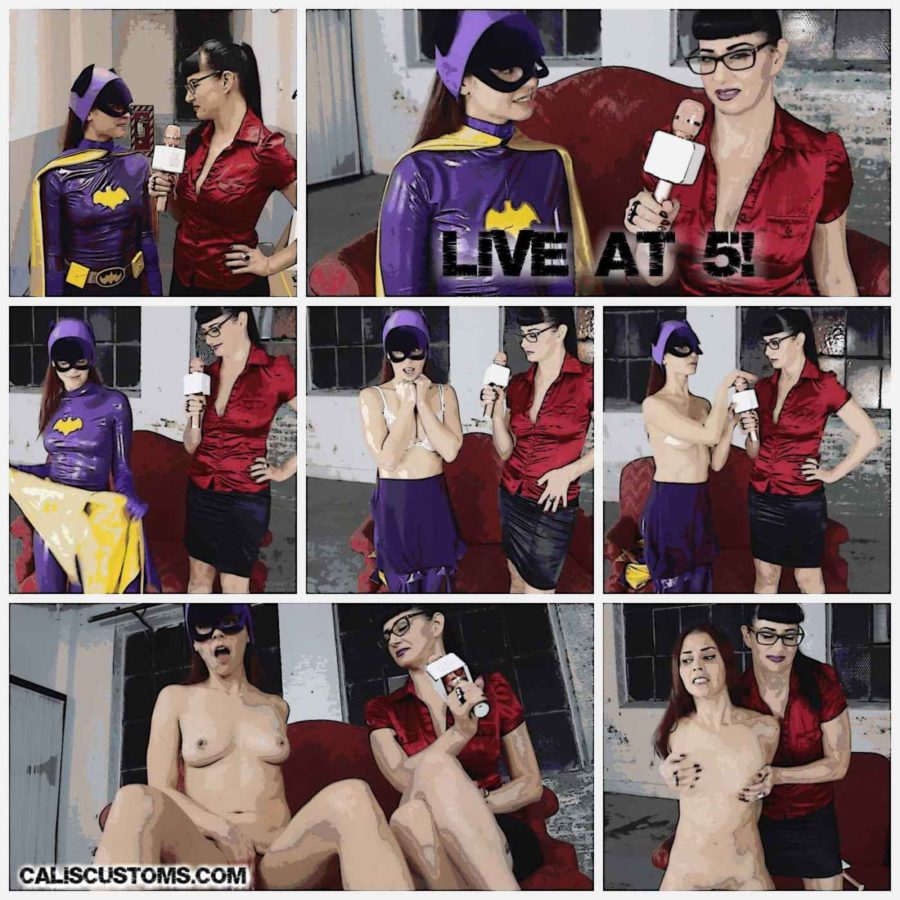 Miss Nyxon has Batgirl, Cali Logan for an interview on their segment Live at 5! So many viewers are there in person and on their TVs at home. Nyxon asks Batgirl questions, and she is thrilled to talk about what she does on a day to day basis. But that's not at all what Nyxon really wants to talk about. She starts asking Batgirl the good questions. about having a boyfriend.
Batgirl doesn't because she doesn't really have the time for one and then Nyxon asks if Batgirl has any vibrating friends at home. Batgirl begins blushing and says no that she has never even used her hand down there before. Nyxon wanting to spice things up tells Batgirl to stand. Nyxon compliments her on her body and says she could be a model or even a dancer. Batgirl blushing again is asked to dance for the audience and she does. Next thing Batgirl knows she has started a little strip tease.
Batgirl becomes nervous about showing herself but she doesn't seem to have control and gets down to her pantyhose. Nyxon has the audience cheer for Batgirl to take her pantyhose off. Cali becomes completely naked. Nyxon is happy with how this show is coming along. Nyxon has Batgirl sit and spread her legs. Nyxon convinces Batgirl to play with her kitty. Batgirl does as she is coerced. Batgirl gets a standing ovation from the crowd. Nyxon asks for a great ending to the show and that means Batgirl removing her mask. Cali is entranced to do anything for the Audience.
Nyxon has now Cali Logan frozen and completely aware of what is going on. Cali realizes and she doesn't want her entire career going down and her family seeing. Nyxon begins feeling on Cali and she is proud of herself for having Batgirls true identity exposed to the live audience. Cali tries to ask someone for help but Nyxon tells her that no one will be coming.
This clip runs 20 minutes long with superheroine, magic control, mesmerize, female training, pantyhose, nudity/naked, strip tease, dancing, booty shaking, freeze, handcuffs and shackles and the 1080hd format can be found in Cali Logan's Power and Peril under the Superheroine Category.
Purchase this video at Cali Logan's Power and Peril