"Low blows techniques" from FemaleKicks.com
IMPORTANT: Many clients wanted to see the continuation of this film – Test of Jane's weak spot.
We decided to please you and post the second film from the same customer. The film was shot in October 2020, so, unfortunately, I do not have photos of this film. I had to make descriptions using screenshots. I hope you enjoy this film as much as the first film of this customer.
Clip includes takedowns, throws and ONLY LOW BLOWS: punches, kicks, knees, slaps, hammerfists, knifehand blows, reverse knifehand blows and knockouts.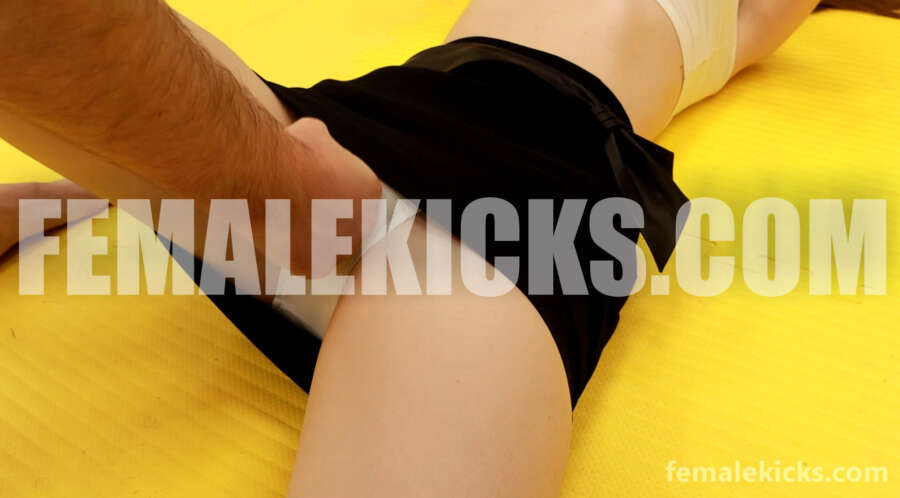 Full HD (1920-1080)
Product length: 10 minutes
Language: Russian with English subtitles
Custom clip request:
So as soon as you got some hits, leave the skirt lifted.
Just make sure you always position yourself so you can directly hit her pussy line even with her skirt on. Such as an leg bar or hold while you attack her pussy line.
For that part from behind her or in general from behind and in front you can aim for her pussy line which Jane can stop her and there also due to her skirt however once you got some hits in leave the skirt up and keep hitting her weakspot.
So in other words use her weakspot and hit it without me properly seeing it right away since the skirt is infront of it however you can see the reverse knifehand for instance move under her skirt and you can tell it hurts he a lot. Soon it will be revealed and the target gets hit diretcly.
Like 10 – 30 sec seeing it hit from underneath without seeing her weakspot directly. Then make sure the camera gets a clear direct view.
Please make sure that the "pussy line" is the ultimate weak spot on Janes body. So once you hit her there, especially after a few hits in row she will be extremly vulnerable at her pussy line and is pretty much defenseless and can't fight back and you see the extreme pain in her face.
Every time you hit her pussy line Jane will always allow a proper and direct follow up hit to hit her pussy line. So always at least 2 hits before defending and such.
(10 min ) This one will be a one sided grappling ballte with hits to Jane's pussy line always.
Jane will always allow you to get her into an hold or lock ( example rear choke, choke on the ground, choke while standing from the front, arm bar, leg bar, mount, etc )
While Jane is in that lock or hold, etc you will try to hit her pussy line always to make her submit. She will let you hit her pussy line always a few times, while she stops your attack here and there. At one point she will give in ( after a row of multiple hits in a row against her pussy line, she will try to block but she is weakend to much allready ) and let you properly hit her 10 times in a row against her pussy line which will always end in a submit. You can clearly tell always how much those hits against her pussy line in general always hurt her ( played ).
Try to get 2 submits in within 2 minutes.
There are 3 defeats in those last 10 min I would love to see. The rest like discribed I leave up to you which grappling move you use in order to only attack Jane's pussy line to defeat her always.
You stand behind her and choke with one arm, the other moves around her body and slaps her pussy line in the front. Once Jane gets weakend due to those slaps, she will collapse to the ground. She will sit while you kneel behind her still choking with one arm. You will now try to open her legs to slap her pussy line again while kneeling and choking her from behind. Make sure Jane back bends a bit while sitting so you can properly hit her pussy line. You will have to fight a bit to open her legs and hit her weakspot. Once you hit her few times Jane is weakend and leaves the legs open and you can land those final 10 slaps to defeat her.
You push Jane against the wall and choke her with one hand from the front while you try open Jane's legs with your left leg from the inside in order to land always a few knees against her her pussy line. Similar to the UFC where they hold someone in the corner to hit the kidney from the side with the knees. However you will only hit Jane's pussy line though. Once she got hit a couple of times she will move forward a few steps, away from the wall and bending forward with legs open to catch some air. You will let her go and move behind her. Once she leans forward you will kick 2-3 times against her pussy line from behind. This will make her drop down to the floor. ( dog position on all fours ). Now you will kick her again 2-3 times right against her pussy line from behind. Now she fully drops down to her belly. Now you will sit on her back ( gently of course ) with your head facing her legs. You will now try to open her legs and use the hammer fist against her pussy line while sitting on her back. After you have hit her a few times she is defenseless and leaves the legs open so can land those final 10 hammer fist and Jane is knocked out.
Jane will be lying on her back, her legs are up to protect herself. You will kneel infront of her legs and try to open her legs to get a straight punch in against her pussy line. Here and there you will be able to land two hits in a row always. Fairly soon she is weakend and you will sit on her belly ( gently ) facing torwards her face. While she is worried about you attacking her face you lean back a bit and slap her pussy line a few times. Her legs remain open so you can easily hit her a couple of times with the slap. That weakens her even more. You will turn around and sit on her belly ( gently ) now facing her legs. You open her legs and start with 2 hammer fists against her pussy line. Now she is all yours her legs remain fully open and you attack with the final 10 knifehand hits her pussy line until knocked out. ( not reverse knifehand this time )
I leave the camera up to you, however make sure please I can clearly see the hits against Jane's pussy line while I see her face.
Use my techinques please the most, including pussy slapping, knees, hammer fist and knifehand, reverse knifehand ( standing and/or kneeling ) and punches.
Use mainly knees, reverse knife hand while kneeling, slaps, uppercut, hammerfist while kneeling, grab her leg and punch her pussy line or kick it then stuff like that.
Purchase this video at FemaleKicks.com