"Mike destroys Stacy's stomach" from FemaleKicks.com
Clip includes kicks, punches, knees kicks.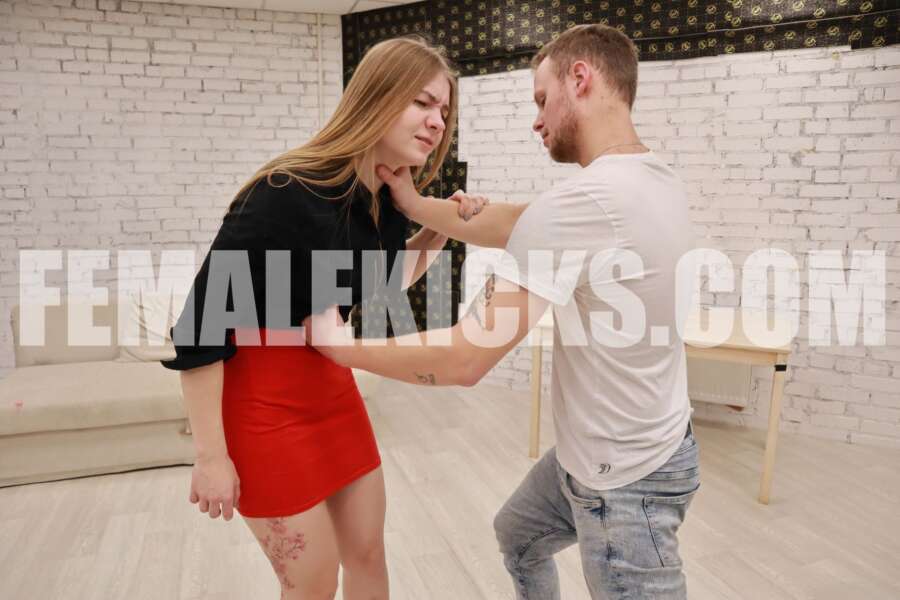 Full HD (1920-1080)
Product length: 12 minutes
Language: English with English subtitles
Custom clip request:
No need for dialog but actress hopefully can say out in pain "my stomach, my stomach" in english, also while she gets kicked on all four hands and knees.
Simple plain vanilla video, pure fight. No story, or you can make your own. One actress and actor. Male to punish female in the stomach 95% of video, last minute female fights back and kills male opponent.
No blood, no vomits. Alot of loud grunts from being hit in the belly.
No script – If you wish, you can incorporate a simple story. Male to dominate, female face alot of trouble, but she manage to kill opponent at the last minute. She will kill her male opponent with his head between her thighs, neck snap.
Fight points:
– 100% belly hits only to female
– Hits should be forceful and impactful
– No rapid continuous punches, kicks. Actor to deliver one punch/kick/knee at a time, hard hits.
– Against wall, punches include to right and left ribs
– Female to hold her stomach and bending down alot from pain. Include similar scene as attached.
– Some times she will drop to one knee in pain after a hit, some times drop to both knees with head all the way to floor holding stomach.
– Include the punches to kidneys facing wall, like attached. Continue the scene with actress now in pain, hands still on wall but bending down more exposing the belly. Actor will go to her side and punches her belly few times, some knee lifts too. Her hand doesn't leave the wall but jerk from back/butt up.
– Mid fight, male will unbutton her blouse to reveal her bra but blouse remains tucked in.
– Lastly, actress to fall to her hands and knees all fours and get kicked in her belly. Please do a lot of this throughout the video, many. Make it at least 10x, more the better. No crawling but she remains not moving in pain, when he will kick her. Some kicks are hard to lift her body/butt up in the air, some are harder to flip her on her back and roll. Also include one variation of this kick where female's head is all the way to the floor but leg off the ground and butt high in the air (like trying to stand) – belly exposed, when she gets kicked. The kicks are hard to lift her body/butt higher but she stays same position and gets kicked few times. Example attached.
Purchase this video at FemaleKicks.com