"New Girl 2" from Femme Fatale Fight Club
Check out our latest release: NEW GIRL 2.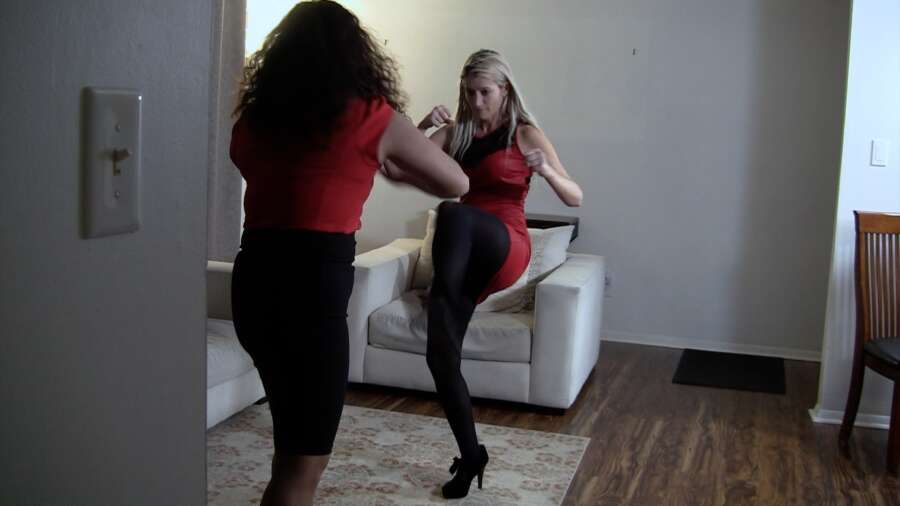 Kim Chi has just completed her training at the PALADIN counter-terrorism agency and is keen to start fighting the bad guys. She's practicing her moves at the safe house she's been assigned to when rogue agent Constance sneaks in and confronts her. Kim doesn't know who she is at first, but Constance reveals she has defected to the criminal organisation MEDUSA. Kim realizes this is an opportunity to prove herself.
She blocks an exploratory jab and two kicks from Constance and ducks under a looping hook before catching her with a one of her own. Constance tells her she hits like a girl, to which she replies that she is a girl, before blocking and trapping Constance's next attack and delivering a straight right to her face.
Frustrated, Constance draws a knife, but Kim slips a downward slash and blocks Constance's follow-up, before trapping the knife and twisting her wrist, making her drop the knife. Kim is able to kick the knife out of reach, and Constance tries a hoof, but Kim blocks it and counters with a vicious belly punch. With Constance winded, Kim is able to pummel her with a series of heavy shots. Constance is now out on her feet, and Kim moves behind her, applying a bear hug till Constance loses consciousness…
… or so it seems. As Kim plays with her limp body, Constance's eyes snap open and she stamps on Kim's foot with her stiletto heel, then turns and stuns Kim with a massive hook of her own. She takes out a chloroform pad and clamps it over Kim's mouth. Her eyes roll back as she slips into unconsciousness.
Now it's Constance's turn to play with the limp Kim. But she's isn't finished with her. She wakes Kim up and delivers a series of cruel hammer fists to her stomach, then follows up with a belly claw and a nerve pinch to her neck. Not satisfied, she drags Kim up by the hair and thrusts he knee up into her solar plexus, then follows up with two hooks, an uppercut and a belly punch. Kim, now barely able to stand, now tries a wild haymaker, but Constance easily avoids it and slips a garrotte around her neck from behind, then drags her to the floor and chokes her into oblivion.
Includes the following:
• Punches/blocks
• Kicks/blocks
• Hooks
• Uppercuts
• Bear hug KO
• Chloroform KO
• Belly punches
• Belly claw
• Nerve pinch
• Long choke-out with garrotte
• Rolling eyes
• Eye flutter
• Limp body