New "Lady Victory" Members Only Film from NGC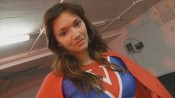 One reason to sign up to receive Next Global Crisis' Members Only films is that you might get to see one of your favorite superheroines—even if they're no longer among the living. That's apparently the case with NGC's upcoming Member's Only film (only available this Friday).
Synopsis
The Mayor of Lockdown City is up to his old tricks again and has called Lady Victory to fight against an 'ordinary woman' in a charity match. Lady Victory promises to go easy on her opponent as she doesn't wish to harm her, but it turns out that there is nothing ordinary about this woman who the Mayor has been enhancing since birth. There follows a rollercoaster battle of brutal moves.
Does Lady Victory find a way out of trouble? Or is she forced into the humiliation of submitting to her opponent on live TV? You decide.
—