UPDATED! New Videos from Sleeperkid
UPDATED with Heroine Overdose 4.
Heroine Overdose 4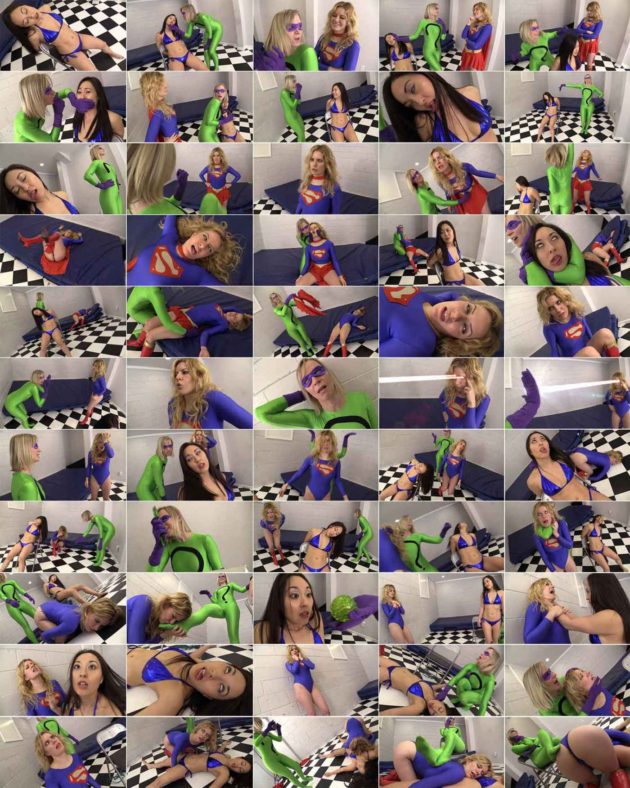 Sumiko has been knocked out and left tied in a chair wearing a tiny shiny blue bikini. Enter Serena reprising her role as "The Riddler", gloating over Sumiko's bound and limp body playfully, vowing to add her to her collection. But her real goal is to trap Supergirl, using Sumiko as bait.
Enter Jacquelyn Velvets as "Supergirl" in a flash, demanding to know why Riddler wants her attention so badly. Claiming she thinks she can take Supergirl on, Riddler strikes a deal, if Supergirl wins she can free her hostage, but if Riddler wins she gets bragging rights to the claim of having defeated Supergirl. Supergirl accepts smugly, flashing out of the way to avoid Riddler's attempt at a sucker-punch. Riddler is undeterred, gloating over a waking Sumiko as she waits for Supergirl to return. Zipping back in, Supergirl demands to know what the challenge is, only to blink away as Riddler attempts another haymaker punch, while Sumiko begs and pleads to be saved. Riddler hand-smothers her to quiet Sumiko down, bringing Supergirl zipping back with a tap to the shoulder. Riddler aims for a kick only to swing at air as Supergirl once again zips away. More begging earns Sumiko a neck chop to silence her, her head rolling with her eyes crossed and tongue dangling. Riddler opts to be patient, waiting. Supergirl superspeeds back aiming to throw a punch but Riddler senses her return, driving a crushing kick to her face, stunning the maid of might! Riddler's serum apparently works as she treats Supergirl to a series of belly punches followed by a devastating uppercut that sends the blonde heroine to the ground. Riddler enjoys some limp play and gloating as Sumiko comes back around whining to be saved… Riddler treats her to a sleeper hold until Sumiko's eyes roll and her tongue flops, fluttering to unconsciousness. Riddler then strips an unconscious Supergirl of her cape and skirt, trying each on for size until the slumbering superheroine comes to. Determined to end the confrontation, she gets to her feet, staggering, throwing punches and kicks, but Riddler's newfound powers make her impossible to strike. Can Supergirl survive Riddler's puzzling new powers? Or will the emerald evil-doer do her in?
Purchase this video at SKWPPV.com
---
Bring in the Clones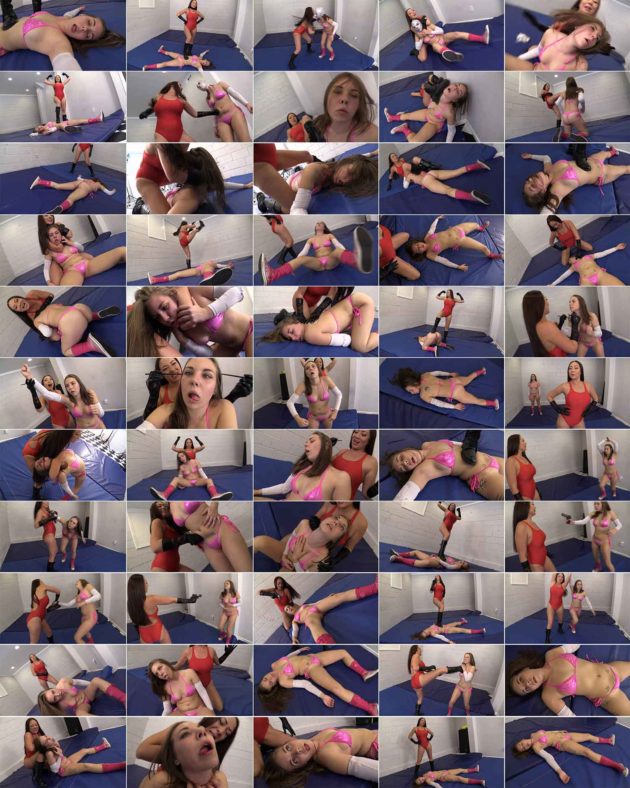 We fade in on an KO'd Monroe with her tongue hanging out and foot planted in her belly. We pan up to find Nyssa Nevers is to blame for her destruction. Nyssa explains that this Monroe is just one of the many Monroe clones that she uses for her deadly training sessions and is recording this as a warning to show people just how deadly she can be. What follows is many quick scenes where a Monroe clone meets their demise. Try as they may, no clone ever stands a chance against Nyssa, even given weapons or being allowed to sneak attack Nyssa, the Monroe clones always find themselves with their necks snapped or strangled.
Purchase this video at SKWPPV.com
---
Sapphire vs. The Sentries
This Sentries entry starts with Betty Jaded standing watch wearing a tiny bikini, but unfortunately for her, looking the wrong way.  Sapphire sneaks up behind and slaps the oblivious sentinel into a severe sleeper hold, Betty's eyes rolling as her face turns red,  sinking to the ground until she's passed out.
Next up is Devon, wearing a striped bikini, standing guard. Once again Sapphire sneaks up behind and, in a rush, slaps Devon into an overpowering Sleeper Hold.  Devon's eyes cross as she struggles helplessly, her face flushing red as Sapphire cinches in, making Devon sink to the floor. She spasms and twitches as her eyes roll into the back of her head, going still. Sapphire tests her with a little limp play before depositing her on the ground, a splayed out and knocked out heap.
Next, Sapphire tip-toes up behind an oblivious London, wearing a gold singlet, wrapping her head and neck into another brutal Sleeper Hold. London thrashes and struggles, grunting as she tries to pull free, but Sapphire has the hold locked in and soon London's grunts turn to gasps as she struggles to breath, stumbling as her head goes light… at last dropping to her knees, and then the ground until her fluttering eyes go still.
Then it's Violet, standing guard in a, naturally, purple bikini. Sapphire rushes her, her powerful arms snaking around Violet's head and neck, squeezing in a tight Sleeper Hold.  Violet's eyes go wide as she's pulled back, rolling as she sleeper hold takes full effect.  Violet is dragged down to the ground where Sapphire applies more leverage as Violet's writhing body eventually goes still.
Now it's Alice's turn, as Sapphire stalks her from behind, rushing in and wrapping her into her own sleeper hold, the bikini clad blonde thrashing and struggling as she tries to escape.  Sapphire overpowers her, however, pulling her slowly to the floor as Alice coughs and gasps, her face turning red as her eyes cross.  All too soon, she too succumbs to the pressure of the sleeper hold, going limp in Sapphire's arms.
Again and again Sapphire takes the Sentries unawares, taking them out by way of chloroform, nerve pinches, choking, face punching, sleeper holds, and knockout gas.
Purchase this video at SKWPPV.com