NGC's "Angel: Deadly Sins – Part 1" (Review)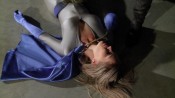 An Angel mini-series. Her original costume. Two new smoking hot villainesses. Yeah, we're going to talk about this. Welcome to my review of Angel: Deadly Sins Part 1 from Next Global Crisis (and why not join Next Global Crisis' Discounts List while you're at it?).
[Beware spoilers] A blindfolded Angel in civilian clothes is led into a room by a new character named Envy. Angel is there to do an interview with another new character, Pandora Gold, a woman who has apparently been able to stockpile an impressive number of nuclear weapons. Pandora quickly grows tired of Angel's questions, so she grabs her by the throat. Angel swats her hand away, rips open her shirt, and reveals her classic gray costume underneath.
Angel floors Pandora with a punch, so the villainess commands Envy to use her ability to temporarily remove another's powers on Angel. However, she can't do that until Angel actually uses her power so Angel and Pandora have a nicely choreographed battle. Angel gets kicked in the stomach several times, is on the receiving end of a head butt and gets hit with a hard stomach punch.
And that's when Angel commands Pandora to "stop" which is exactly what happens. Pandora is frozen in mid-punch and unable to move thanks to Angel's formidable mental powers. Angel delivers several stomach and face punches before Envy steps in and places her hand on the back of Angel's head, successfully stealing her powers.
Envy drives Angel's head into the wall and Pandora picks Angel up off the floor. Pandora delivers a serious beating and eventually Angel passes out in Pandora's arms. Pandora turns the camera back on which is now trained on an unconscious Angel in a chair, her arms tied behind her back. Pandora strikes Angel with a few face punches but it seems that Envy's power has its limits as she can only hold others superpowers for so long.
Angel eventually gets her powers back and commands Pandora to untie her, which she does. Now Angel goes on the offensive using a mix of martial arts and her powers to take control. However, she focuses too much on Pandora which allows Envy to get behind Angel and choke her with a rope. Envy then steals Angel's powers again, but this time puts Angel's abilities into Pandora. And we are now at the point where we won't reveal any more spoilers. Just know that this is an episode that has two endings. One where Angels wins, another where she loses.
This episode has great entertainment value. It features one of NGC's most iconic characters taking on two absolutely beautiful female villains. It's another home run in a library full of home runs. Can I make a baseball analogy for a British producer? It's pretty much all I can think of, so I'm going to.
In closing I wanted to talk about the second episode that NGC ever released (reviewed here). It was a big part of the pre-release commentary on the site, and it had been a while since I watched it. So I pulled it up just before watching this episode, and it was every bit as good as I remember. It was an absolute game-changer of a release and played a big part in putting NGC on the map.