Season 2, Side Mission 8 from Next Global Crisis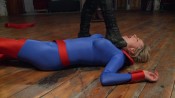 Next Global Crisis returns with Side Mission 8, a video which continues NGC's recent trend of including elements of fighting, major story development, and a relatively heavy dose of fetish-like material. This release also includes a couple of extra goodies which fans should love.
[Beware minor spoilers] The episode opens up with a rehash of the previous episode, where Nina Hellfire knocks out both Miss Freedom and Celestia with a chloroform-soaked rag. As Nina exits, she seems to feel a bit of compassion for the heroines and hopes that the backup she called doesn't arrive. But it wouldn't be much of an episode if it didn't, and we are soon greeted with the formidable presence of Tony "The Hammer" Reuben, last seen beating on Catherine Marks.
Tony is patient and waits for one of the girls to awaken. Celestia does so first, and for it she gets the pleasure of Tony's boot being placed on her throat. Tony picks Celestia up and delivers a rather brutal double-handed punch to her gut. Miss Freedom comes to and quickly has her cape removed by Tony, who uses it to strangle her. Tony pushes her against a wall and delivers several shots to Miss Freedom's stomach until Celestia is telekinetically able to stop his assault.
Feeling confident that she can take Tony down, Miss Freedom sends Celestia after Nina Hellfire and activates her "blitz" power. She lays a good beating on Tony until an unexpected side effect slows her down. Tony takes advantage and drops Miss Freedom over his knee with a vicious backbreaker. He assaults her mid-section some more and puts his boot to her throat.
But Miss Freedom displays some of the fortitude she didn't once have and bravely fights back. There is a test of strength before Tony is able to land several more blows to the stomach, and lift the heroine off the ground with a double handed throat lift. The fight ends shortly thereafter and a big couple of big story points are revealed so I'll have to keep this part spoiler-free.
A couple thoughts on the characters and actors:
Tony – I really like the character and the actor who plays him. Although not asked to bring the crazy like Sebastian Lunar, he plays his role as the enforcer quite well. Still no sign of any super powers yet, but that doesn't make him any less interesting, which I think is a credit to the actor.
Celestia – I get it now. Honestly, I didn't gravitate to the character at first. I could always see she was beautiful, but for whatever reason she didn't quite resonate with me. I know, I'm a moron, and I have a history of this. I didn't like Bluebird much the first time I saw her; now I consider her to be the genre's best talent. But now I'm on team AlyAdmirer, who has been signing her praises for months now. Thanks for bringing me around with your comments on the character and actress, AlyAdmirer. I appreciate it.
Miss Freedom – Simply put, no other actress has been asked to show more range than Harriet Moran. Her character has gone through more changes than any other, and I think she has portrayed those changes brilliantly. Just a top-notch acting talent.
And there you have it. Another great episode in the NGC library. I would expect nothing less. And just a quick reminder that with this video you get the Angel photos and an Angel only extended teaser. Both are great.