Next Global Crisis – "Side Mission 11: Rock Bottom"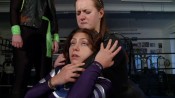 Well, Next Global Crisis has done it to me again—they topped an episode I never thought they could top. And now I have to update my list of Next Global Crisis' best films with Side Mission 11 taking the top spot. Read my review for this instant classic below.
The episode opens up in a boxing ring with Bluebird bootless and battling a member of the Darkheart gang. If you recall, the last time we saw Bluebird was in episode nine, where she got absolutely decimated by Alaric, the leader of the Darkhearts. On the outside of the ring is Eliza Rose, who watches the battle unfold. You may also recall that Eliza pledged allegiance to the Darkheart gang in the same episode referenced above.
The gang member hits Bluebird with several stomach blows but eventually the heroine gets him down to the mat and knocks him out with a scissor hold. Eliza enters the ring and through the use of bracelets on Bluebird's arms and legs, is able to send electric shocks through BB, pin her arms behind her back, and make it so Bluebird is unable to move her feet in a similar fashion to the training room episodes from season 1.
Through some exposition we learn quite a bit has been happening since Bluebird's loss to Alaric. We learn that she has been in captivity for a month and has been constantly tested in combat. However, it doesn't seem that Eliza wants Bluebird dead, but instead, wants to break her will and voluntarily have her fight on her side.
Eliza gets a call from Alaric who tells her that he has a new opponent to test Bluebird. Enter Katia, a figure you may be familiar with. She gave Ms. Freedom a hell of a battle back in Season 2, Episode 7. And from the outset of the fight it's obvious Bluebird is no match for Katia. Exhausted and out of second winds from her constant battles, Bluebird gets absolutely annihilated.
Katia lifts knees and delivers punches to Bluebird's stomach, knocks her out with a hard kick to the face, drops her over her knee in a vicious backbreaker and wrenches her head while jamming her knee in her back. Bluebird also has her head driven into the canvas twice and catches several knee lifts to the face. And that's where we will put a stop to specific story moments. As always with NGC, there are two endings to their films. One where Bluebird escapes captivity and another where Eliza chokes her out.
This episode felt a lot like Episode 9 where Alaric was introduced so if you liked that one, you'll like this one. In my opinion they are both utterly fantastic but for me the F vs F fighting put this one over the top. I'm a big fan of those kind of fights, especially when one of the girls is for lack of a better word an "amazon," and that's how I would describe Katia who towers over Bluebird in this episode.
I put some thought into to why I love the character of Bluebird so much. Of course being portrayed by such a beautiful and talented actress makes it easy, but a big part of the appeal of Bluebird to me is that her character has been developed so well. She's not the most powerful heroine in the NGC universe, but like every great superhero, she never wavers in the face of overwhelming adversity. We've seen her triumph and learned about her tragic past. And now she has an arch enemy in Eliza Rose who is testing her like never before. No character in the genre has been developed so well and as much as I like to see her in danger, I find myself rooting for her to triumph more and more.
In conclusion, amazing writing, an amazing actress (three actually, Eliza and Katia are tremendous), and an amazing episode. I couldn't recommend it more highly.