NGC Championship: Spectrum v Dominator
Dominator turned her back on the light many years ago, and Spectrum has never forgiven her. Dominator isn't looking for forgiveness however, she just wants to inflict maximum pain on the proud superheroine, and with the Announcer's help she will do just that!
This will be a true grudge match.
Spectrum starts the fight well and is soon ready to show off her powers, but as ever in the Championship, the odds are stacked against the heroines. The Announcer has used 7th Dimension power to make 'alterations' to Spectrum's powers, and they react in the opposite way to their intention. This is enough to give Dominator an edge that she will not relinquish.
What follows is a merciless destruction and multiple KO's of the kind Dominator gave to the Depectress in the past. Spectrum is hammered and squashed all over the ring as well as humiliated when Dominator begins to strip her of cape and boots, leaving Spectrum looking like an entertainment slave rather than a superheroine. Has Spectrum got any hope of winning? Find out on Friday at http://ngcchampionship.com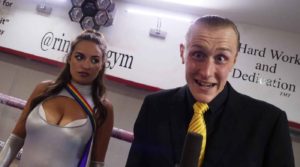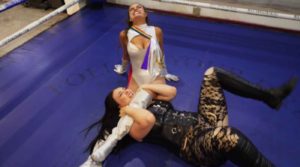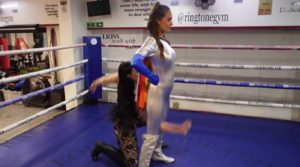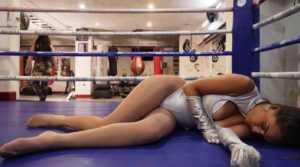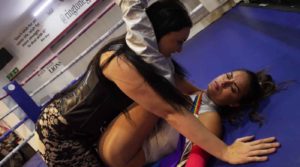 Special Gift – Red Glory v Miss Suppression
This week our early-bird buyers of 'Spectrum v Dominator' will also receive over 2 minutes of UNSEEN footage from a Championship battle of yesteryear between Red Glory (5'3) and Miss Suppression (6'0). Yes, it was a mismatch, but Red Glory did put up some fight at least, as you'll see…