NGC Story: Limitations Part 2
We open on Captain Liberty KO'd and tied arms over head while Carmen Black waits for her to wake. When she does, Carmen wants to know what caused her to weaken. Captain Liberty divulges information about power limits being placed on all active Elite Force operatives, but she has a way around it.
Carmen is pleased, for she realises that in order to complete the black staff, she will need to combine her power with another fully-powered superheroine, and this means releasing the Captain. They fight once more and it is Carmen who manages to get her way, stealing the energy from the Captain to make the black staff complete. With this great power and an Elite Force heroine at her mercy, will Carmen press home the advantage?
---
Member Gift: Miss Freedom Photo Shoot Video
To go alongside 'Limitations – Part 2' starring Captain Liberty & Carmen Black, any member who purchases within 48 hours of receiving the Friday email will also get behind the scenes video of Miss Freedom and Malicia shooting the photo set you see below. If you wait longer than 48 hours this extra video will be disappeared. Members who open their email of course get access to the corresponding photo set 'Miss Freedom v Malicia Part 1.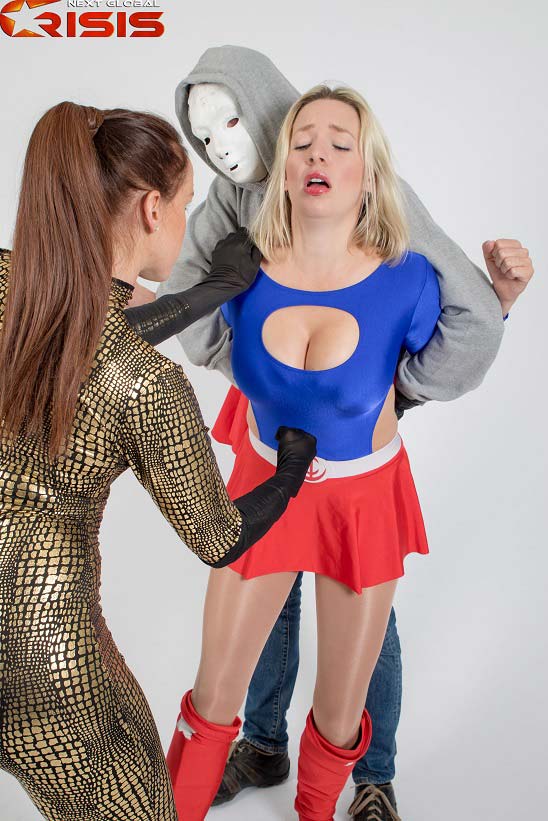 Visit Next Global Crisis for more info