"Out of the Frying Pan" and More from Jacquelyn Velvets
Out Of The Frying Pan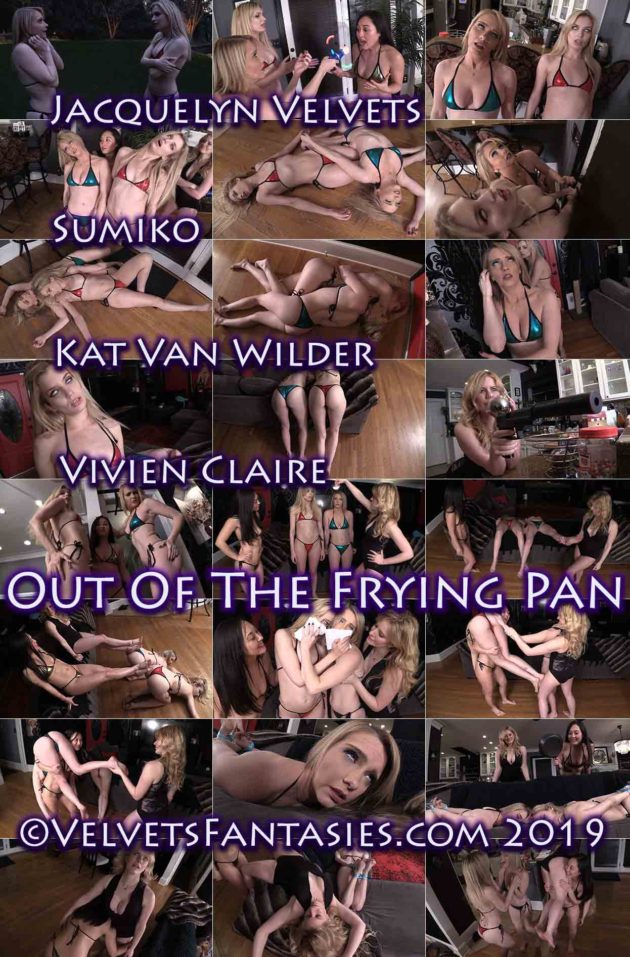 Starring Jacquelyn Velvets, Sumiko, Kat Van Wilder, and Vivien Claire
We fade in on super-spies/heroines Kat Van Wilder and Vivien Claire practicing some fighting techniques in their yard. Within seconds it becomes painfully evident that they're not the brightest bulbs in the box, but they're as loyal as they are dim…realizing after practice that their partner Sumiko has been missing for a few days, and that they should do something about it! The do-gooders gear up and find Sumiko's last known location only to discover that she's teamed up with uber villainess Jacquelyn Velvets. Convinced that Sumiko must be under some sort of hypnotic spell, the blondes try to snap her out of it, but it soon becomes obvious that Sumiko switched sides in order to distance herself from Kat and Vivian's collective ditziness. Villainy ensues as our heroines get put through through the KO wringer via a booby trapped house, a frying pan knockout, tranquilizer darts, hypnosis, forced chloroformings, neck-chops, carries, and more…until a final twist ending leaves one shocked (and unconscious) villainess out cold and carried away by three extremely satisfied heroines!!
This movie contains double punch KOs, double headbutt KO, electrocution KO, sleeping gas KOs, frying pan KOs, tranquilizer dart woozy, hypnosis KOs, double neck chop KO, chloroform KO, over the shoulder carries, body piles, bondage
Purchase this video at Velvets Fantasies
---
A Knockout Above The Rest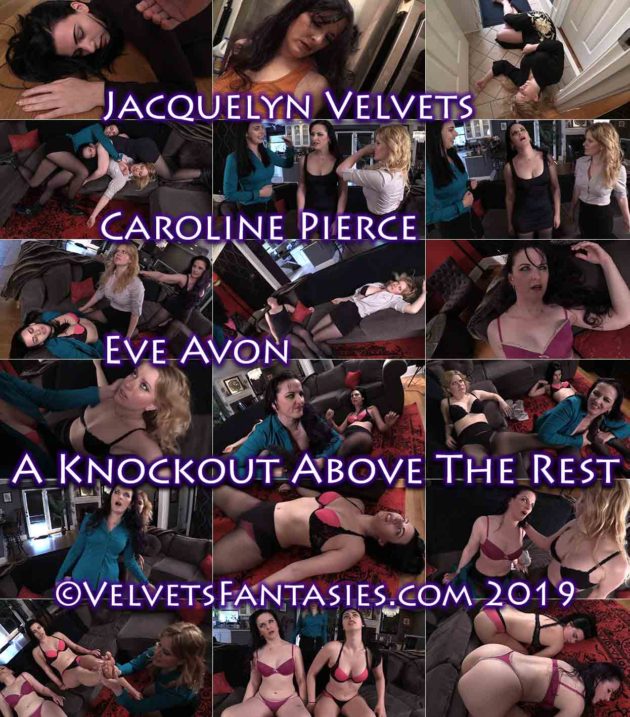 Starring Jacquelyn Velvets, Eve Avon, and Caroline Pierce
We fade in on three different women (Eve Avon, Jacquelyn Velvets, and Caroline Pierce) in different locations, as a POV-attacker sneaks up and takes them all out with an expert karate chop to the neck! Hours later the damsels find themselves coming to in a strange living room. They're confused, but a note on the ground lays out their captor's game. The first woman to leave the other two unconscious sans clothing/pantyhose will be allowed to leave, with the other two destined to be used for the villain's other crafty games. A battle erupts, and soon enough all three ladies take turns getting knocked out repeatedly as well as dealing out trips to Dreamland, stripping her opponents down and stealing their attire as they hand out naps via karate chops to the neck and the dreaded foot pressure point KO! Unconscious body piles stack up until finally the fastest and strongest competitor emerges, finally laying her foes out and making her way out of the house with their outfits and hose tucked under her arm!
This movie contains multiple neck chop KOs, foot pressure KOs, uniform stealing/swapping, body piles, quick KO reactions, limp limb manipulation
Purchase this video at Velvets Fantasies
---
Carried Out Agents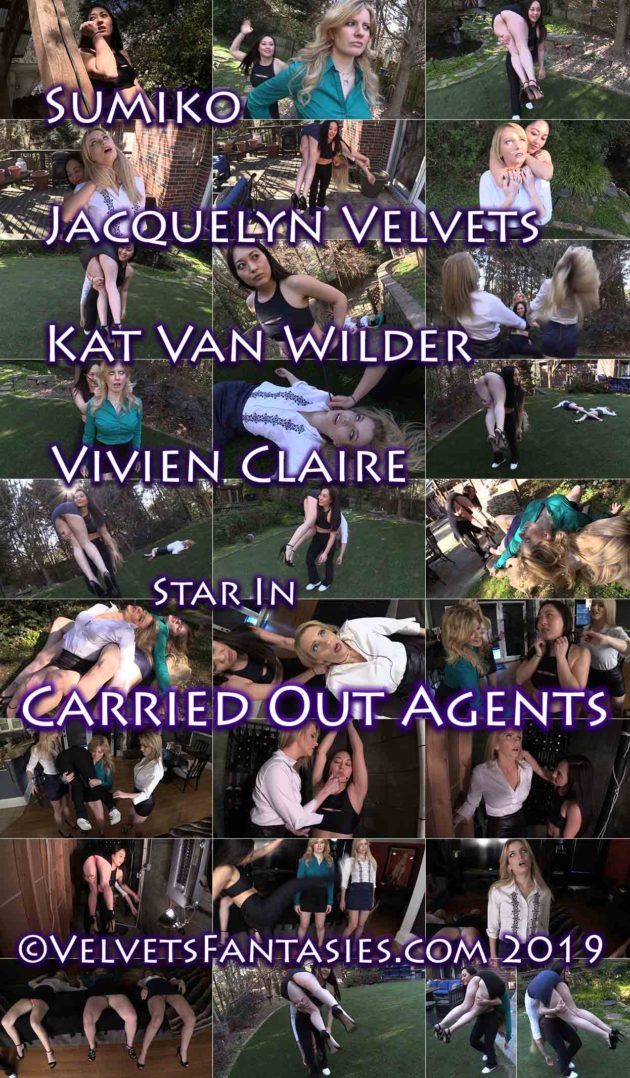 Starring Sumiko, Jacquelyn Velvets, Kat Van Wilder
and (introducing!) Vivien Claire
We fade in on the stunning and lethal agent Sumiko as she makes her way into a targeted lair, laying eyes on several clone sentries (played by Jacquelyn Velvets, Vivian, and Kat Van Wilder). Her overconfidence is well-deserved as she proceeds to take the first set of clones out with expert speed. She proceeds to carry each unconscious clone away, piling them up at the bottom of some stairs as another clone spies on the deed. A three-way attack follows, but Sumiko uses her feet (and a well-timed headbutt) to take them all down. A pressure point attack puts them out, with the powerful agent carrying them all away, one by one.
Sumiko radios in and asks her boss to "give her something a little harder" next time, moments before making her way into the house and falling for a trap! Three of the clones use a fourth as bait, managing to trap and knock Sumiko out with a tazer attack. Sumiko awakens in a basement, tied up with her arms over her head, but she manages to seduce and overpower her guard! Incensed, Sumiko makes her way upstairs and destroys the remaining clones, finishing her mission as she carries all three of her victims away in a beautiful outdoor OTS scene!!
This movie contains neck chop KO, double neck pressure point KO, sleeper hold KO, double kick KO, chop stick pressure point KOs, strangulation KO, taser KO, nerve pinch KO, kick KOs, multiple over the shoulder carry extended scenes, body piles
Purchase this video at Velvets Fantasies