"Outcasts" from Next Global Crisis
'Outcasts' starring Comet Girl.
Comet Girl had her mind overtaken by the Crown Prince and was used in an attempt to stop Elite Force learning about his Redstone plans. After this event her team mates could no longer trust her and she is now outcast from the group. Hoping to win their favour back she tries to takes down one of their deadliest foes; the Masked Man. He too is rudderless without the Crown Prince and access to the 7th Dimension, but that doesn't mean he isn't ready for a heroine ambush. Comet Girl's attack badly backfires and she is soon on the receiving end in a punishing fight. Used like a rogdoll by the villain, can she escape and regroup?
---
Member Gift
To go alongside 'Outcasts' starring Comet Girl any member who purchases within 48 hours of receiving the member email will also get unseen video from 2018's 'Wonderstrike v Iron Drone'. The footage here is from unseen and extended takes. Remember, I have to delete it in 48 hours.Lastly you'll also get access to 'Miss Freedom's Krypto-Hell' involving Miss Freedom being weakened by a green rock.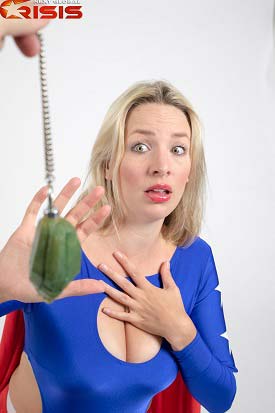 Visit Next Global Crisis for more info