Pro Style Fantasies Episode 65
WE'RE BAAAACK!!
That's right, we're back, and to get us back into the groove, we're kicking off with a series of HOT custom videos, starting with a low blow heavy wrestling video (not part of XCW) starring three of the sexiest wrestlers of all time, Karlie Montana, Angela Sommers, and Charlotte Stokely!
Karlie unwisely thinks she can take BOTH Angela and Charlotte on at once, but underestimates how viciously the devilish duo is willing to cheat! The two sexy heels target Karlie's vulnerable pussy with low blow after low blow–kicks, punches, stomps, head butts, forearms, claws, and more–until she is little more than a punching bag! Then they work over her breasts and belly! Karlie manages to get one of them in a leg scissors from time to time, but the hold only hurts her injured crotch even more! Karlie is left laying while the two villainesses taunt and humiliate her!
Over a half hour, only $25!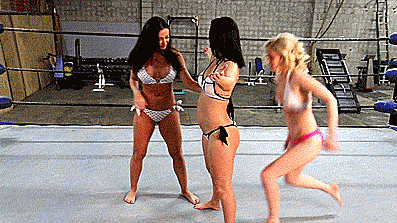 Purchase this video at ProStyleFantasies.com
[Coming up next: a brand new chapter in the Sleep Mistress saga at SuperheroineWorld.com!!]