Randy Moore is MegaBabe in "Underestimated"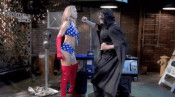 [Adults only] Here's a look at a relatively new release from the lovely Randy Moore. In this video series (consisting of two parts, for now, at least), Ms. Moore battles a nasty looking "masked and hooded villain named Garth." Sounds like an evil guy to me. Check it out!
Randy Moore in MegaBabe Part 1
–
A masked and hooded villain named Garth is prowling in an alley…looking for a way to break into a building. He is surprised by the sudden arrival of Megababe on the scene. The sexy superheroine confronts the villain who quickly whips out a futuristic looking weapon and fires it at her!The projectiles bounce harmlessly off the 'Girl of Steel'…so the cocky but not-so-bright Garth discards his weapon and throws a punch. His hand connects with the steel jaw of the curvacious Megababe and he howls in pain!
She quickly dispatches him with a series of blows and leads the beaten criminal off to jail… But…the criminal justice system being what it is, Garth is back on the street and up to his old tricks in no time. Once again he is determined to break into a building, and once again Megababe confronts him. He is defiant, and rapidly deploys a new weapon…a mysterious spray which has a strange effect on Megababe. Not only does it weaken her, but it also arouses her…and her hands start to caress her own body like they have a mind of their own… while Garth watches in cruel amusement.
He punches her again, and she reels from the blow, but he grabs his hand…her powers haven't been completely stripped. They battle…Megababe fells him with some vicious punches but Garth trips her and gains the upper hand. Then he gives her another dose of the powerful spray and slaps her senseless. As she feebly resists, the dastardly villain sits astride her and undoes her top…revealing her full breasts and perky nipples, which he mauls and pulls…and even as his actions are causing her pain, they are also arousing her.
Megababe can't stop her body's reaction…Garth decides to buy himself a little time to decide what to do next, so he gives her a brutal right cross to the jaw that puts her to sleep…and leaves her there, in a beautiful half naked heap. Her predicament looks dire indeed!
Randy Moore in MegaBabe Part 2
–
Garth returns to where he has left Megababe spayed out topless on the ground. He gets to work…pulling off her shorts and revealing her naked pussy. He roughly gropes her breasts and her pussy…and while he's doing so, he receives a call from his underworld boss.He receives instructions that seem to please him quite a bit. He gloats for a moment and then hauls Megababe to feet by her hair and bends her over the news kiosk.
He gropes and spreads her perfect ass, rubbing his grubby fingers in all of her intimate places…until she starts to stir. This pleases him because he wants her awake for what's coming next. He moves in behind her, unzips, grabs her by her hips and starts pounding her…his pelvis smacking into into her ass over and over and over, while she helplessly moans. She's desperate because they both know that orgasms will render her permanently weakened. Sure enough, she cums and the dastardly villain has to test the results.
He bashes her in the face…and she crashes to the ground…he looks at his hand…no pain! The Girl of Steel is now merely flesh and ! So he hauls her to her feet and continues to mercilessly beat her…sinking punches into her belly and felling her with a brutal right cross to the jaw. Megababe is desperate…she tries a ploy…she taunts him into trying to make her orgasm again. He grabs her, squeezing her nipples and rubbing her pussy…until it looks like she cums…but did she???? He goes to finish her off with a hay-maker, but suddenly Megababe rallies…blocking the punch and viciously countering…knocking him down, then finishing him off with a kick to the face.
She was supposed to been stripped of her powers but apparently Garth didn't do a good enough job! Megababe gets dressed and marches the beaten villain off to the slammer…