Marvel Developing "Black Widow" Film with Scarlett Johansson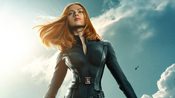 As DC/Warner Bros. continues to knock it out of the park with its casting choices, it's worth taking a moment to mention that Scarlett Johansson may soon be starring in a solo Black Widow film after reprising the character in Marvel's Captain America: The Winter Solider. 
Standalone Black Widow Film?
Marvel Studios is developing a film that would revolve around Black Widow, the character played by Scarlett Johansson in the "Iron Man" and "The Avengers" franchises.
Studio president Kevin Feige has long been high on the character even before her role was expanded for April's "Captain America: The Winter Soldier." When promoting the home video release for "Iron Man 2," in 2010, he said, "We've already started discussions with Scarlett (Johansson) about the idea of a solo movie and have begun putting together concepts, but 'The Avengers' comes first."
Source: Variety
Captain America: The Winter Soldier