Season 2, Episode 10 from Next Global Crisis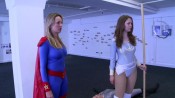 The Next Global Crisis season finale is upon us, and it does not disappoint. Here's my review of Season 2, Episode 10: Life or Death, which features Ms. Freedom, Celestia, and a few surprises. Be sure to join NGC's Discounts List to purchase NGC releases early!
[Beware spoilers] Miss Freedom and Celestia enter a room and immediately find Erica's unconscious body. Miss Freedom literally calls out James Roman, and he obliges. He walks though the door and gives both girls a little telekinetic shove. The heroines remain confident, however, that together they can still win a fight against James, so he decides to call in his backup in the form of the masked man who killed Suki Deluxe and has harassed several other heroines. And it turns out that the masked man has had had a long running obsession with Miss Freedom.
The fighting begins with Miss Freedom taking on the masked man and Celestia taking on James. Both ladies get the best of both fights early on, but James is able to grab Celestia with his telekinetic powers and takes her staff out of her hand. Meanwhile, Miss Freedom continues her rather thorough beating of the masked man until James is able to halt her attack with his powers. And this allows the masked man to drop Miss Freedom with a hard punch.
The masked man lifts Miss Freedom off the floor by her throat and puts her on the verge on unconsciousness with a hard kick to the face. Meanwhile, James continues to use his powers to overwhelm Celestia, slamming her face into the floor and knocking her out. The men are firmly in control when Erica awakens and starts to pound on James. It's not a long lived turn around however as James is able to knock a weakened Erica out with a punch. Miss Freedom however is able to recover and with Celestia also back on her feet, the heroines decide to trade opponents.
The girls have the advantage for a short time but James grabs them with his powers again. He holds Miss Freedom against a pillar and lands several stomach punches while the masked man creepily runs his hand up Celestia's back and through her hair before knocking her down with a knee lift.
James hits more stomach punches on Miss Freedom and places her in a choke hold while the masked man pounds Celestia unconscious. But out of nowhere, John Roman arrives and he looks less than happy with his brother. So unhappy in fact that when his attention is turned, he jabs his brother with a syringe. A syringe full of the mind control inhibitor we've seen in previous episodes. And that is kind of when all hell breaks loose and marks the point where I have to stop giving away specific story points. But let me just say it's an awesome ending, and the alternate ending is really cool as well.
There's really not that much more I can say. You know the drill. This is just another example as to why NGC is the best storytelling producer in the business. It's an epic episode that caps off an epic season. It also provides a springboard into Season 3, where several storylines that have yet to be resolved will presumably carry over. I can't wait to see what happens next.
Oh, one last thing before I wrap this up. Gmail has recently decided to bring in new tabs to segregate emails that get received. Because of this, NGC members will now find the discount emails in the 'Promotions' tab. NGC has posted about this on their blog here.