"Season 4, Episode 2" from Next Global Crisis
So, after ending the premier episode of Season 4 on such a fun and upbeat note, Next Global Crisis is back with Episode 2: Portal Hunting.
The episode begins with a new heroine Wonderstrike being interviewed as she has been tasked with investigating portal activity, which is the preferred way the invading "Superiors" travel.
In the middle of the interview, right when Wonderstrike and the reporter are giving a little exposition on Miss Freedom, a superior named Shadow-Destroyer arrives and nails the heroine in the face. The reporter and her crew flee the scene and the heroine strikes back rocking her opponent with several blows. Shadow-Destroyer battles back however, and grabs Wonderstrike in a two-handed choke hold. Wonderstrike breaks free, they exchange stomach kicks and Shadow-Destroyer disappears.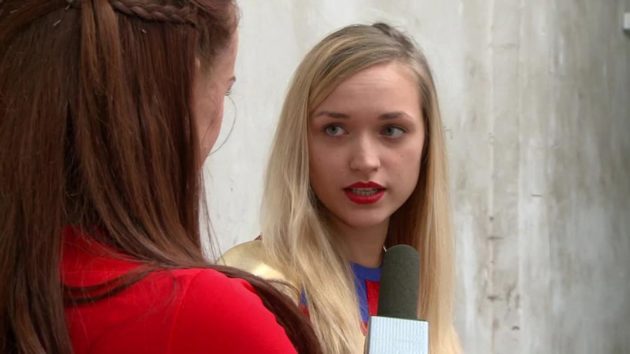 Wonderstrike investigates the surrounding area, climbs some stairs to find her opponent waiting. They have a little chat about the original invasion day and start fighting again. Wonderstrike holds a clear edge for the first few moments of the fight and offers up a test of strength. Again, the heroine seems to hold the edge until she gets a knee to her stomach that Shadow-Destroyer follows up with a lengthy bearhug. Wonderstrike punches her way free and then delivers what she believes will be a finishing blow via some sort of energy attack, but Shadow-Destroyer is ready. The blast knocks him back a bit and he certainly feels it, but he remains conscious and able to fight. However, the act of using the attack completely exhausts Wonderstrike to the point where she can't really even stand on her own.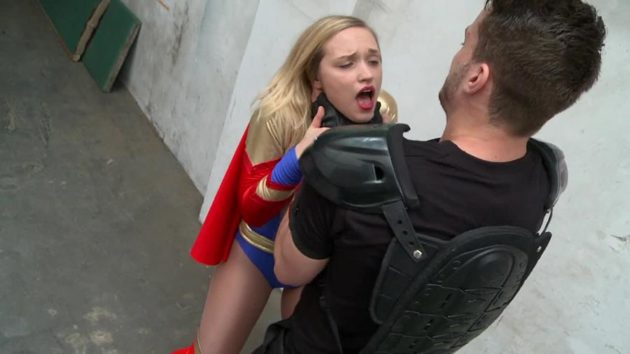 Things don't go well for the heroine from here on.  She is kicked in the stomach, punched (multiple times) in the stomach, kneed in the face, punched in the throat, gets placed in an ankle lock, trapped in a reverse bearhug, gets back-breakered and… we will leave it here to avoid possible episode ending spoilers.
There's a lot going on in this episode as new characters are introduced and we get some insight into the goings on in the world and with some of the other heroines we know and love. I think the new villain does an excellent job, and I think Wonderstrike is going to find a home in the hearts of many NGC fans. There's also a surprise appearance, which really isn't a surprise at all if you pay attention to the NGC blog.  I also have the feeling we're going to see more of that reporter from the beginning of the episode.  I have no idea why I think that.  Just call it a hunch I suppose.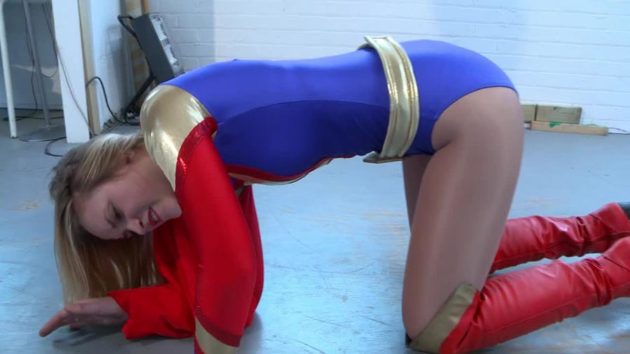 I think the thing I'm intrigued most by is the "Superiors" and their motives. Is it simply world domination? It will be interesting to find out who they are. What they want. How many exist. And when/if their staff weilding juggernaut of a leader will return.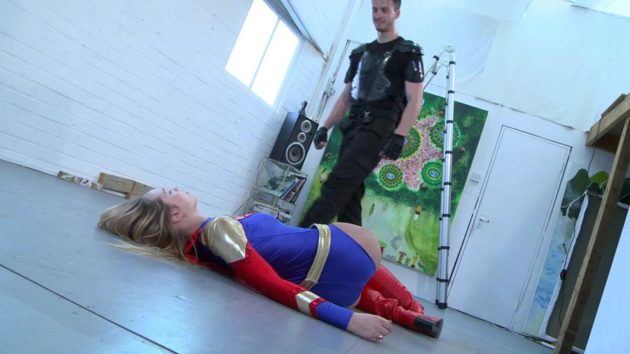 Portal raids are occurring in population centres on a more and more regular basis. The new superheroine unit that rose from the ashes of the attempted invasion has found ways of detecting portal activity in an attempt to stop any raids, but they are still behind the curve. With the media keen to find out how the 'Superiors' can be stopped, they have followed new heroine 'Wonderstrike' on a portal hunt, and interview her live. As is regularly the case, she expects no trouble at the site itself and is merely looking for clues when a large superior combatant returns to the scene and shocks her. The rookie heroine must now face a dangerous enemy in one on one combat.

At first she surprises him with her strength and resolve, but when she makes an error in using her energy blast power he gains a clear upper hand. He laughs as her weakness causes her to struggle even to stand and he exacts punishment on her body with cruel blows and bear hugs. Wonderstrike looks doomed but perhaps a little help from a team mate will swing things back her way… Or they might both be destroyed.
Purchase this video at Next Global Crisis