"Sick Of It" and "Pain Slut" from Pro Style Fantasies
Special Custom-Video Double Feature!
"Sick Of It" and "Pain Slut"
In HD!
That's right, it's TWO hot videos for the price of one!! Both starring Angela Sommers and Charlotte Stokely!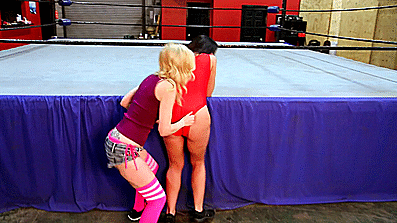 In "Sick Of It," XCW's own Angela is trying to cut a promo, when suddenly a tipsy "Ice Cold" Charlotte Stokely interrupts her; it appears that Ice Cold has had enough of being stripped, ravished, and especially wedgied by all her opponents, and wants everyone to know that enough's enough!
When Angela doesn't take kindly to being interrupted, Ice Cold decides to give Angela a taste of what it's like to be dominated and humiliated and wedgied all the time! Angela is wedgied, subjected to low blows, and nipple pinches! But Angela isn't going to take this lying down, and gives back just as good as she gets! But soon the pink dildo is pulled out, and Angela is subjected to a humiliating fucking with it!!
Then, in "Pain Slut," the champ called Victory is scheduled to face off against Aphrodisia. Aphrodisia is clearly no match for the champion, and so quickly resorts to her special aphrodisiac powder to reduce Victory to a panting, moaning, cumming slut!
Indeed, Victory is so deeply affected by the aphrodisiac, that she begins cumming even when Aphrodisia beats her up!! The more Aphrodisia subjects her to punishment–punches, nipple pinching, wedgies, sleeperholds, low blows–the more Victory cums!
Soon Victory is cumming so helplessly that Aphrodisia can make her orgasm just by INSULTING her. It's the most humiliating defeat of Victory's entire career!!!
Included in this HOT and exciting video: Lots of wedgies, low blows, knees, punches, sleeperholds, leg spreads, breast attacks, breast and pussy fondling, dildo fucking (softcore), mouth fucking with dildo, belly attacks, domination, rag doll, orgasms, and more!!
Starring Angela Sommers and Charlotte Stokely!
47 minutes! Only $24.95! Check out the free trailer!!