"Side Mission 12: Heroine Bait" from Next Global Crisis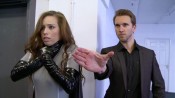 Let's be honest. As much as the fan base loves to see her, Bluebird needed a break after the recent poundings she has taken. And I can't think of a better character to bring back into the storyline than Erica Lynn. Check out the review and trailer for Side Mission 12: Heroine Bait.
[Beware spoilers] Erica follows up on a distress call only to find out the call was faked by Red Mist. I'm telling you, Elite Force operatives need to stop falling for this move. It never leads anywhere good for them. Enter the extraordinarily beautiful and possibly insane Georgina Shred. The ladies exchange some insults and talk a little bit about the Roman family before the fighting starts in earnest.
Once it does, Erica controls much of the action. Georgina does get her fair share of shots in and that includes several punches and knee lifts to the stomach. But it's Erica's ability to duplicate herself that allows her to prevail in the fight. The duplicate lands a hard punch across Georgina's face and this allows the original Erica to slap on a choke hold. And just as Georgina is about to pass out, Erica and her duplicate are frozen in place by the formidable telekinetic powers of James Roman.
James forces the duplicate to literally strangle herself until the duplicate "dies." I'm actually not sure "dies" is the correct term since it's not the original but the body does fade away. James then telekinetically pins Erica's arms over her head to a pillar and Georgina pounds away on the completely defenseless heroine. Georgina then takes Erica's cape, wraps it around her throat and strangles her for several seconds.
And that leads us up to our two endings. One where Erica is beaten unconscious by Georgina and another where Erica is able to disable James and choke Georgina unconscious. Which ending is canon won't be revealed here.
This was a quick and fun episode that brought back three characters that we hadn't heard much from in a while. The fighting was great and there was some foreshadowing that gave a taste of what we may expect in the upcoming season finale. Both Ashleigh Lawrence and Victoria Broom look better than ever and I thought they had some real great heroine and villain chemistry together. I'd have no problem with them meeting again.