Silk and Spider-Girl in "Double Cross!" from Sleepy Superheroines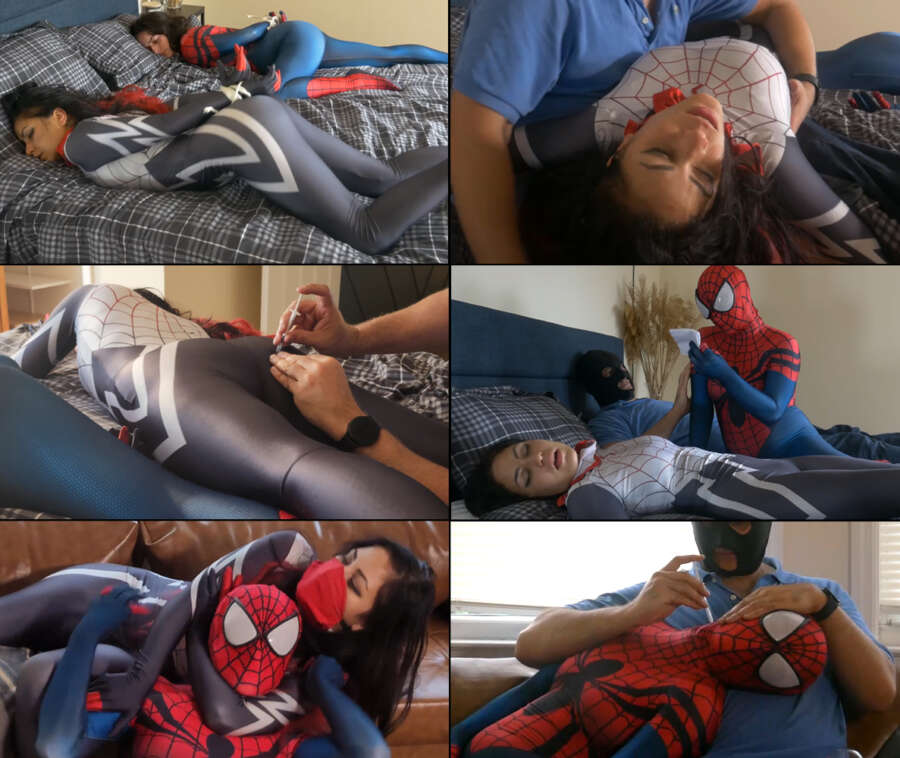 In this exciting new adventure, Trickster sets his sights on two powerful superheroines – Spider-Girl and Silk. Using his cunning and manipulative skills, he successfully brainwashes Spider-Girl into believing that her friend Silk is actually him. He then tricks Silk into coming to their location. However, things don't go as planned as Silk proves to be more than a match for Spider-Girl and knocks her out cold with a sleeper hold. Trickster sees an opportunity to strike and takes advantage of Silk's momentary distraction to sneak up behind her and knock her out with a blackjack and chloroform. As Spider-Girl's brainwashing starts to wear off, Trickster quickly subdues her and ties both women up. They eventually get free and make a plan to take down Trickster with a well-coordinated attack. With victory within reach, the heroic duo prepare to finish off the villainous mastermind. Will they finally put an end to Trickster's reign of terror? Or will he find a way to escape yet again? Watch now to see how this epic battle unfolds! And enjoy the stunning visuals of Indica and Sushii X wearing skintight costumes that accentuate their assets.
This video features male/female fighting, female/female fighting, multiple chloroform KOs, multiple injection KOs, multiple blackjack KOs, tranquilizer KO, multiple punch KOs, over-the-shoulder carries, cradle carry, bondage, butt spankings, ragdolling, hypnotism/brainwashing, unmaskings, and limp play.
Available Now/Watch Trailer: https://sleepysuperheroines.com/silk-spidergirl-double-cross/