"Stacy beats up the arrogant Jessica" from FemaleKicks.com
Clip includes kicks, punches, knees kicks, elblows and knockout.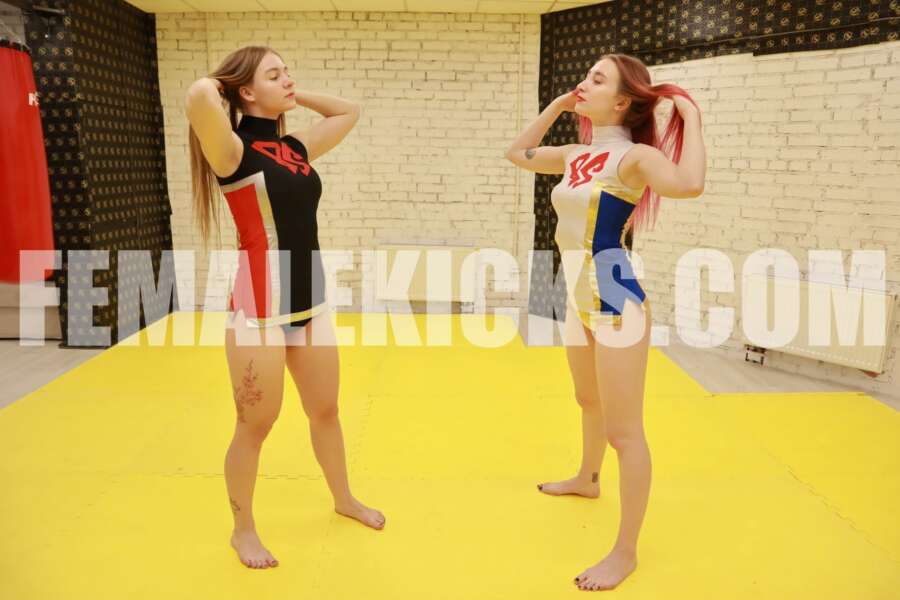 Full HD (1920-1080)
Product length: 17 minutes
Language: Russian with English subtitles
Custom clip request:
Fight style/choreography:
All punches and kicks are the the face and head. The great majority of the punches are left and right punches (i believe they are called hooks) mixed with a quite a good number of jabs and also with uppercuts, crosses and hayhammers. A good number of kicks to the face and head as well.
No belly punches! Not one!
Spit-out: I'd like to see moments of the girls getting the spit punched out of them. A few moments from Stacy, many from Jessica.
About the punched spit out, i wish that the way the punched spit out is filmed is either this happens in a single shot of itt's own or at the begining of a shot so to avoid the obvious image of seeing a girl holding water in her mouth for a long time before she spits it out, as that breaks the ilusion of combat.
I love seeing punching the spit out in fem fights and as such i ask for them in my video and to look great. You have done a great job before with spit outs in a previous custom of mine so i want more of that again, please.
Characters:
Both girls are criminals who have a long standing feud against each other. They met up to settle the score. Jessica plays the more arrogant of the two, believing to be the toughest woman fighter there is. Stacy is more level-headed and she doesn't need to boast about her fighting qualities, she knows it for certain.
Both girls are vain about their looks and love to show off their beautiful long hair by whipping their hair about when talking or before they strike a fighting pose during the fight.
Premise of the story:
After Jessica's defeats against Kevin, instead of making her humble they made her feel humiliated and eager for an easy victory to smooth her bruised ego and pride.So Jessica sees Stacy, a girl, as an easy victory for her. Jessica remains as arrogant as ever and because of that she once again understimates her opponent. However Stacy proves to be as invested in the fight as Jessica and ends up as an even tougher adversary.
Script:
The two girls met each other at the center of the room.
Jessica: "Can't believe you were fool enough to come fight me. You should know me better than that. I'm invencible, the best there is. You better just surrender and accept me as your boss."Stacy: "I know who you are and that's why i'm here to fight you. I'm not affraid of you."
Jessica: "Fool! I'll break you, turn you into meat pulp for your defiance. I'm making an example of you. Last chance for you to kiss my ring."
Stacy: "He's my kiss to you."
Stacy throwns a sucker punch on Jessica so hard iot makes her do an half spin.
Jessica: "You are going to regreat doing that."
Stacy: "Here's more to regreat."
Stacy punches Jessica 8 times.
Jessica: "Is that the best you got, you are in trouble."
Stacy: "Like this?"
Stacy throwns 24 left and right punches on Jessica that makes Jessica walk backwards until she hits the wall. Stacy spins Jessica so to smash Jessica's face on the wall 8 times, pulls Jessica and spins her and gives Jessica 20 more punches until Jessica is in the middle of the room and falls to the ground. Stacy sits over Jessica and gives a groundpounding on Jessica made of 8 left and right punches. Afterwards, Stacy rises up and looks down on Jessica.
Stacy: "How you liked that?"
Jessica raises from the ground.
Jessica: "Like i said, if that's the best you got, you are in real trouble. I'll show you how to really fight."
Stacy: "Not if i do it first".
Both girls raise their fists and the back and forth fight begins.
For the rest of this part, the two girls punch each other in a back and forth fight. Jessica is the first to receive punches.
Jessica throwns 3 to 4 strikes on Stacy, and sometimes even 5 strikes.
Stacy throwns to Jessica 5, 6, 7 or 8 strikes.This is how the fight goes.
Both girls manage to make the other hit the ground, Jessica falls more than Stacy.
Both girls punch the spit out of the other, , less times on Stacy and more on Jessica.
The fight is ferocious and brutal, both girls attacking with fury, each eager to destroy the other.
This part ends with Stacy hitting Jessica 20 times until Jessic falls to the ground.
Stacy: "You got it yet? I'm winning. Give up and i'll not send you to the hospital."
Jessica: "The one going to the hospital is you."
Jessica throwns a non-stop attack on Stacy so hard Stacy can't even defnd herself. It's a one-sided beating on Stacy, with only Jessica throwing the punches and Stacy taking them all. It ends with Stacy on the ground.
Jessica: "Surprised? You shoudn't be. I told you i am the best".
Stacy raises, stumbling a bit.
Jessica: "You are done. Give up and i'll not send you to… the morgue".
Stacy gains a second wind and she turns to Jessica.
Stacy: "So far i have been pulling my punches but now i'm going to get real on you."
Jessica: "Whatever. It's your death, bitch."
Both raises their fists. Jessica thinks this will be another easy beating on Stacy but instead this time the entire rest of the fight is Jessica suffering a brutal one-sided beating from Stacy.
Jessica tries to hit Stacy but Stacy easily dodges or blocks the attacks from Jessica and hits Jessica back with 8 to 12 punches.
Stacy punches Jessica to the ground.
Jessica raises confused and angry and tries to attack Stacy again.
Jessica throwns 20 punches on Stacy but Stacy blocks each of Jessica's strikes and Stacy hits/punches Jessica back with the same harm that blocked Jessica's strike., the last puch throw Jessica to the ground.
For the rest of this fight, Jessica can no longer thrown a punch or fight back, she is just a punching bag for Stacy.
Close to the end, Stacy punches Jessica left and right 12 times and in each time Jessica gets the spit pucnhed out of her.
Jessica falls to the ground and Stacy grabs Jessica by the hair and on the side she hits Jessica face with the knees and then Stacy gives Jessica 20 left and right punches to the face while Jessica is still on her knees. It all ends with a final kick to Jessica's face.
Jessica falls back to the ground on her back, face up.
Stacy: "Of course i would win. I told you you wrre going to the hospital".
Last moments of the video is looking down on Jessica, her hair spreaded all around her head like a halo, making Jessica look very beautiful as a sleeping beauty with her hair all around her head.
Purchase this video at FemaleKicks.com