"Stacy failed her mission" from FemaleKicks.com
Clip includes punches, kicks, knee kicks, choking and knockout.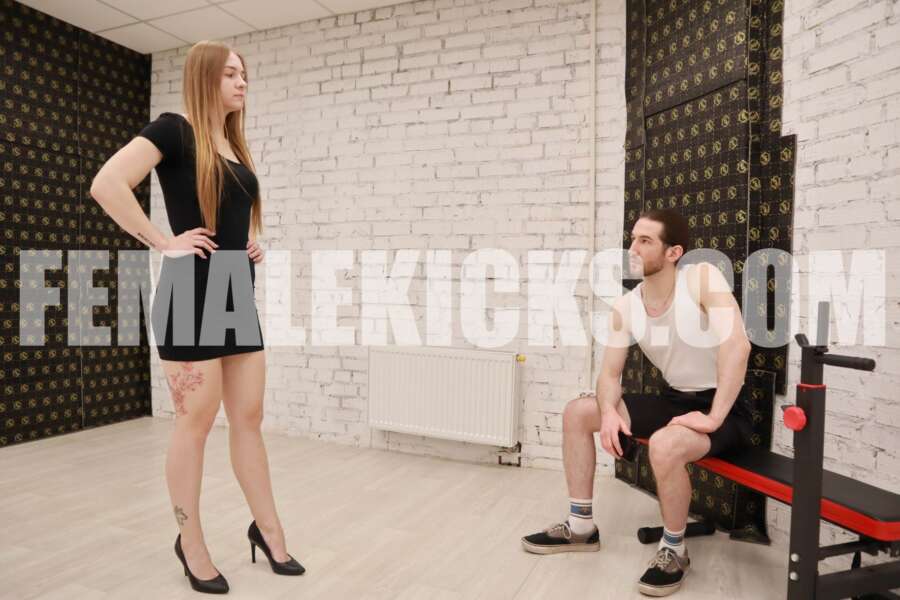 Full HD (1920-1080)
Product length: 13 minutes
Language: Russian with English subtitles
Custom clip request:
Very similar to "Jessica failed her Mission" because there is a connection and i really love this Film. Jessica´s strong behave and reaction / moaning from the punches are just perfect for me, and i hope to see somehtting similar with Stacy.
She wears the same Blackdress (please make shure it alwasys looks nice on here during the fight) like Jessica in the other Video, with the black Shoes, open Hairs and some soft Make up, i want her to look like a Movie Star on the Red Carpet. The Movie starts with her coming into the Room where Jack is, he asks her what she wants. She aks him if he remember the fight against Jessica, he answers with yes. She tells him that she is her Sister, and because of him Jessica lost everything. She was once a famous Agent, but now she is nothing, and she is here to revenge her. Jack tells her to watch out, is is a good fighter now, but Stacy only smile on that "Show me.." and the fight beginns.
Jack is really a good fighter now and from the beginning he gives Stacy a good Number of Belly and Head punches. But she just takes them all with a little monaning and always pushes the attack against him. She is a really hard hitter and a few punches are enough to hurt him or to bring him down.
Stacy is very arrogant and is mocking Jack, when he is down she says things like: " It this really all what you can do?" "- Should my Sister really have lost against you, because you where lucky?" or " I am not impressed" and something like that, you are free to create some Stuff. Jack become more and more exaused and from 2:30 to 3:00 she gives him a hard beating and he goes down again. She puts her Feet on his Throat and smiles "I could take you out right now…" but then she let him be "But i will not kill you, befor you shown me the real Jack… Come on!"
He is standing up and the fight goes on, at this Point already Stacy gets a lots more Belly/Head punches . There is some Stuff from the Jessica Video what i would like to see similar: (fighting, reaction and camera):
09:22 – 09:44 a jump kick against her head, with head punches and belly punches, after the even more belly punches but faster and faster.
10:20 -11:08 avoiding a fist punch and meanwhile give her a Belly punch with a loud moaning from her, followed from mehr Belly and Head punches.
14:13- 14:29 a close up shot from her upper Body while she became Belly punches with a Zoom out.
12:52 or 12:54 I saw a missed chance here: She attacks from from in to outside, he goes under this attack, and after this here upper Body is for a second exposed, this is a good Chance to give her quickly some or one Belly punch.
But this in between the normal fighting stuff and i think the fight will be pretty cool for me. When we have min ~7:00, Jack manages do put her against the Wall and starts punching her Belly with left and rights. But then she surprisingly puts a Hand on his Throat "Now i know why my Sister lost against you, but i am not my Sister!"
Stacy starts to punch Jack and after a good beating he drops down on hes knees "Its time to end this fight" she goes behind him, ready to break his neck. She smiles "Goodbye Jack" but in the very last moment he can free himself. " You still keep resisting… impressive" he stands up again and she is approtching him.
Now the fight should look like that: Stacy tries a single Attack on him, he avoids this attack and gives aorund 3-5 punches. This goes on 4 or 5 Time, after this Stacy become upset, she makes a angry noise ( I am sorry i dont know how to describe it better) She is ready to attack him with a fist punch,
put he catches her Arm similar to the Pic,he starts punching her Body Side.
This attack hurts her more as usual, we can see it on her Face, after the 5 punch he finally releases her and she is holding her Body Side " Bastard, you will pay for that" Jack "You had your chance to take me out, but you where to cocky, now you will lose the fight".
Stacy does not beleave him, she still thinks she is superior. She is ready to attack him, but Jack is faster than her and is attacking here.
Now Jack 100% controls the fight. He avoids every attack from her and keeps punching her. Stacy slowly retreating, we can say she slowly gets punches through the Room. In the End she hits the Wall and Jack starts to punch her Belly again. We can a hear " No,no,no this can´t be" from her. Stacy now becomes weaker and weaker
we can see it on her Face and her it from her painfull moanings. After Jack destroyed her Belly, he takes her and puches her into the Room. (With one Hand she is holding her Belly) She just stands there, defencless and breaths hardly from the blows against her.
He now gives her left and rights against her Head, after some punches her Hand slips from her Belly. Jack uses this Chance to give her one last blow into it.
This is too much for her, she covers her Belly with both Hands and drops down on her Knees. She is looking up to Jack, from her strong and arrogant behave is nothing left anymore, she is broken. Jack takes her out in the same Way he took her Sister out.
Thats it, you are free to create some Dialogs and good fighting Combos, maybe i like something and will put it on my next Custom 🙂
Purchase this video at FemaleKicks.com