"Stay out of Jacob's Way" from Lady2fight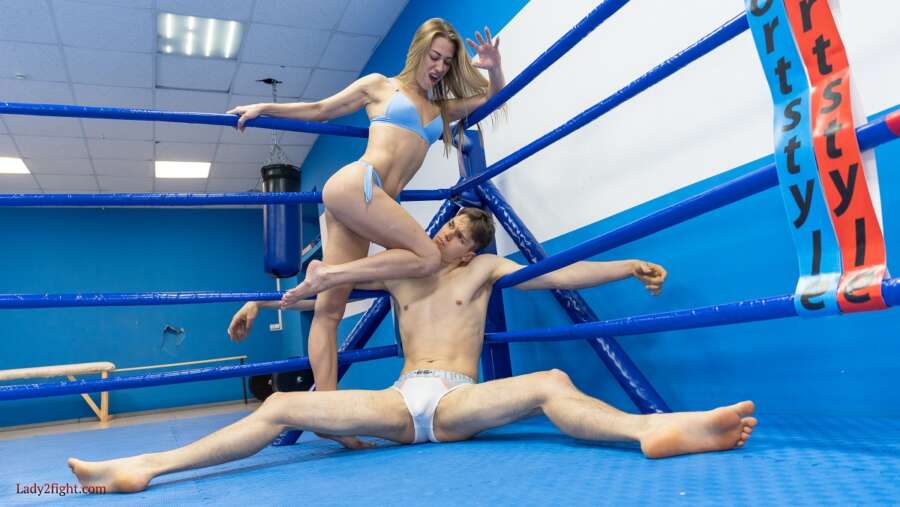 Part 1 Kevin vs Lora: Lora wins. First they have forth and back fight. Kevin punches Lora but Lora avoids the punch sitting down. Kevin's reaction is really painful, rolling on the floor and moving a lot. Lora doesn't wait for Kevin to recover and hits Kevin. Kevin cannot stand up and tries to avoid Lora's attack holding his groin but fails. Lora tries to finish Kevin with another ballbusting shot but Kevin avoids or blocks Lora's attempts, but not always. Lora punches or grabs Kevin's balls time to time. Lora succeeds to immobilize Kevin blocking his arms and grabs Kevin's balls. Kevin goes unconscious.
Part 2 Jacob vs Nancy: Jacob wins. They have back and fort fight. Jacob takes the control of the fight. Nancy tries to hit Jacob's balls but fails. Jacob avoids or blocks each attack and hits Nancy almost one-side. Nancy falls down on the floor and Jacob approaches to finish her with a kick. When Jacob starts to step down, Nancy punches Jacob's balls. Jacob steps back holding his groin with one hand and with the other hand to stop possible attacks from Nancy. but Nancy doesn't miss the chance and kicks Jacob and Jacob falls down on the floor holding his groin. Jacob recovers from the ballbusting and gets Nancy in the headscissor. Nancy bites Jacob's balls. Jacob immediately pull off Nancy and then a very very very painful ballbusting reaction rolling on the floor and moving a lot. Nancy is really damaged too and cannot attack. Luckily, Jacob recovers before Nancy even though he is still in the pain and attacks Nancy really brutally. Between the attacks, Jacob cannot continue to keep attacking because of the pain and grabs his groin time to time. Nancy goes unconscious but Jacob cannot control himself because of the anger and sits down on Nancy and punches her down.
Custom clip request
Product length: 25 minutes
Purchase this video at Lady2Fight