"Super Tilly" from Cali Logan
In the beginning Cali is finishing up programming Wonder Hannah and telling her that they need to protect the Herum at all costs. Hannah is mesmerized and knows what she has to do. Super Tilly comes in and she wants to rescue Hannah and Cali, but there is no use they a permanently in this state of being to protect the Herum at all costs. They try to convince Tilly all the while having a plan to weaken her and get her tied to a bed.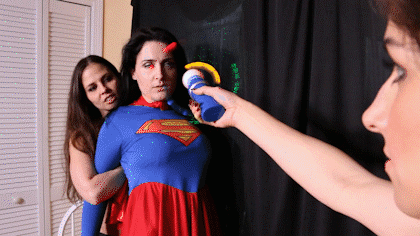 Hannah and Cali get Super Tilly naked and tied to the bed that she wont be moving from until they have her permanently programmed. Cali and Hannah have a special lotion that will weaken Tilly and make her come to their side. Tilly keeps trying to resist, but Hannah and Tilly both stand their ground. They rub a little more of the lotion in and they need one last orgasm out of her. When they get Tilly to orgasm she will then be fully programmed to join them and their quest to make the Herum grow bigger.
This clip runs 19 minutes long with superheroine, female training, mesmerized, forced orgasm, nudity/naked and the 1080hd format can be found in Cali Logans Power and Peril under the Superheroine Category.
Purchase this video at Cali Logan's Power and Peril