"Supergirl: Super Speed" from Anastasia Pierce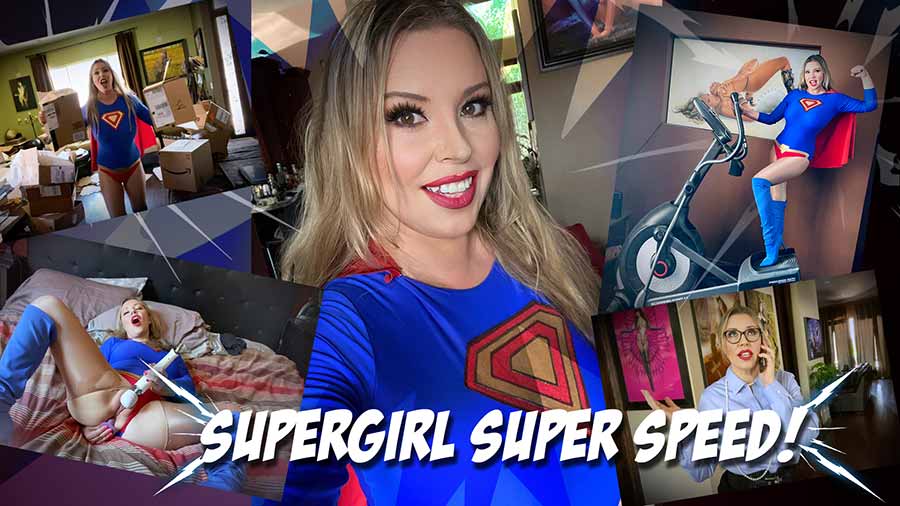 Talk about never being late, with super speed you can be anywhere at anytime. Do a million different things with minimum efforts in a very short amount of time. What if you had that special power, would you use it? What if real life could be run that way? 

For all fans of Super Heroines powers with Super-speed here I present to you: "SUPERGIRL SUPER SPEED" an entire movie with super speed powers fx for you!

This new original story is a full episode of Supergirl using that super power. I know many of you have written me over the years and have been wanting to see that super power used more often in stories. So here it is and I made an entire movie for you.I waited for a very long time because it simply is VERY time consuming. It takes hours of footage to shoot a story like this. 
I decided to go for a leotard Supergirl, Shiny pantyhose and thigh high boots and her cape of course!It is my first time playing this cosplay character. The movie has some humor in it as well.

SUPERGIRL SUPER SPEED
Full HD – http://www.clips4sale.com/5196/23426085
HD – http://www.clips4sale.com/5196/23426099

Summary: Supergirl is home and ready to head out for her business meeting when she receives a phone call. Something urgent just came up and she has to do it all before it is too late. Since no humans are around. She will transform into Supergirl and use her super powers of super speed! She will get all her housework done and super fast workout as well, but that's not all! With almost no effort Supergirl will get it all done.

The only downsize of super-speed is that she will find a tear in her shiny pantyhose and with this will have no choice but to tear them off! And since she still have time to spare she will pleasure herself half way in supers-peed and half way the "human way" to make it last longer! Adding a little extra kink (because super-speed turns her on) including a butt plug as well…

Includes: Supergirl, Anastasia Pierce, Super Heroine, Super-Speed, Special FX, Cosplay, Leotard, thigh high boots, shiny pantyhose, Humor, Super Heroine, Super Power, Challenge, Curvy, Blonde, Pantyhose destruction, masturbation, butt plug, transformation fantasy.