"Supergirl Surrender" from Anastasia Pierce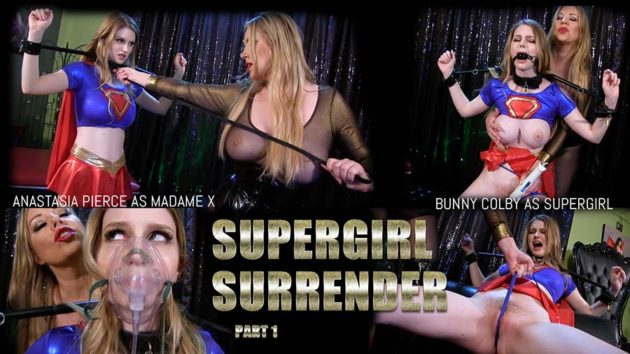 SUPERGIRL SURRENDER – Part 1
Full HD 1920 – http://www.clips4sale.com/5196/21673739/cid746da60019dd8524d50d0852c9
HD 1280 – http://www.clips4sale.com/5196/21673725/cid746da60019dd8524d50d0852c9
SUPERGIRL SURRENDER – Part 2
HD 1920 – http://www.clips4sale.com/5196/21698995/cid746da60019dd8524d50d0852c9
HD 1280 – http://www.clips4sale.com/5196/21698991/cid746da60019dd8524d50d0852c9
Starring: Bunny Colby as Supergirl and Anastasia Pierce as Madame X
Summary: Supergirl Sister went missing 4 years ago. One day, she receives a phone call from a stranger, Madame X. This Women informs her that if she wants to see her sister alive she must come unharmed, relinquish her powers and surrender to her.
Madame X will make Supergirl submit to her and will break her down little by little. Supergirl is about to feel humiliation and shame to it's upmost level!
Also, to up the game a special compound will be used on her to increases Supergirl desires and erases her inhibitions. Supergirl still thinks that no machine or men can break her down but will a woman be able to?
Includes: Bunny Colby as Supergirl, Anastasia Pierce as Madame X, Original Super Heroine costume, helpless super heroine, Metal restraints, shackles, Wedgies, bondage, Gas, struggling, Stripping, Nipple Play, Forced Orgasm, physical challenge, power abandonment, parody, cosplay, weak, Helpless, Fantasy, Humiliation, Orgasm Control Shame, Peril. No escape!