Supergirl: The End of SHL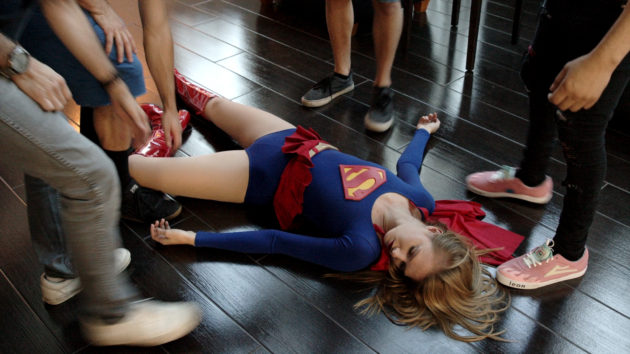 http://www.superheroinelimited.com/supergirl-the-end-of-shl
Price: $50 Standard Edition $55 4K Edition $60 Preorder Edition (includes 4K File)
Length: 55 Minutes
Size: 4K_HEVC: 14GB / 1080P_HEVC: 4.27GB / 720P: 3GB / 1080P: 6.82GB
Version Information:
4K Edition / Preorder Edition comes with: 4k HEVC, 1080 HEVC. 720P, 1080P downloads
Preorder Bonus Content
iPhone POV Bad Guy Live Stream (15 Minutes)
'Super S___' a film directed by Damien Woods (2 Minutes 30 Seconds)
Cutting room floor footage (9 Minutes)
Starring: Ashley Lane / Nathan Bronson / Cody Steele / Jake Adams / Donnie Sins
Synopsis: Kara D comes across a smut parody film that claims to star the real life Supergirl and the likeness is uncanny. She decides to setup a sting operation using her influence as a reporter to get a behind the scenes look at how Damien Woods directs his films.
Damien stands behind his claim in the interview that it is in fact the real Supergirl who stars in his content. Kara decides to give the director a taste of his own medicine.
Kara reveals her true self before understanding Damien has a trick up his sleeve that contains its own 'magical' abilities. Despite all her power, with the drop of some ink to paper, the battle will be lost.
Damien and his film crew are ready to make their claims into truth and they are bidding out options to whomever wants to pay top dollar. Supergirl will not go down without a fight.
http://www.superheroinelimited.com/supergirl-the-end-of-shl
Trailer
Password: endof
Limited Edition Polaroids (a few still left)
http://www.superheroinelimited.com/polaroids
Join my Newsletter for updates and free stuff
http://www.superheroinelimited.com/newsletter
Uninvited 8 and Invited now half off, sales listed below.