"Supra Girl Broken 2" from Heroine Movies
Supra Girl Broken 2 is available now! See purchase options below.
Having recovered from her devastating injuries sustained at the hands of Mortis in the original Supra Girl Broken, our heroine now faces an adversary with inside information that might lead to Mortis' whereabouts. Supra Girl wants revenge against Mortis, and is determined to defeat this new enemy to find out his location. She destroys the villain in combat and demands to know Mortis' location. Everything seems to be going her way until she is double-crossed and exposed to powerful Green Crystal radiation.
In her weakened state, Supra Girl is now a helpless plaything for her new sadistic adversary, who reveals that Mortis told him all about Supra Girl's weaknesses. Supra Girl receives a long and vicious beatdown and prolonged Green Crystal exposure. When Supra Girl tries to destroy the crystals with her heat vision, she sets off an explosion that renders her blind, even as the villain continues to beat and torture her.
Spoilers: Supra Girl is utterly beaten and defeated and then forced to drink a liquid form of green crystal potion, which kills her. The villain leaves her for dead and walks away victorious.
Includes: Green Crystal weakening, belly punches, choking, unconsciousness, KOs, stomach kicks, sledgehammer beatdown, choking with sledgehammer, slegdehammer KO, hogtied, heat vision, blindness, bondage (handcuffed and dragged around by chain/leash), electro torture, debooting, choked with boot, forced to drink liquid green crystal potion, death.
Running time: 31 minutes
---
Purchase options: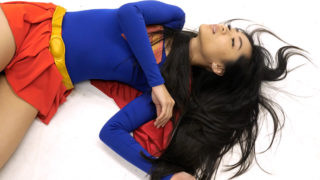 Purchase Supra Girl Broken 2 for $32.99
---
Purchase Supra Girl Broken 1 and 2 Combo Pack for $64.99 $45.99
Includes both videos: Supra Girl Broken and Supra Girl Broken 2!
Total running time: over one hour!
---
Check out more videos at the Heroine Movies Store