"Tell-Tale Fantasies" from Velvets Fantasies
Starring Sumiko and Misty Lovelace
The scene opens with two agents talking about one of their successful last missions together, which brings Misty to admit to Sumiko about one of her fantasies she had about a sexy what-if scenario played up between the two agents not as a team, but as enemies against each other. Sumiko is intrigued to hear more, so Misty continues to talk about her fantasy, and the audience gets a glimpse of it first hand.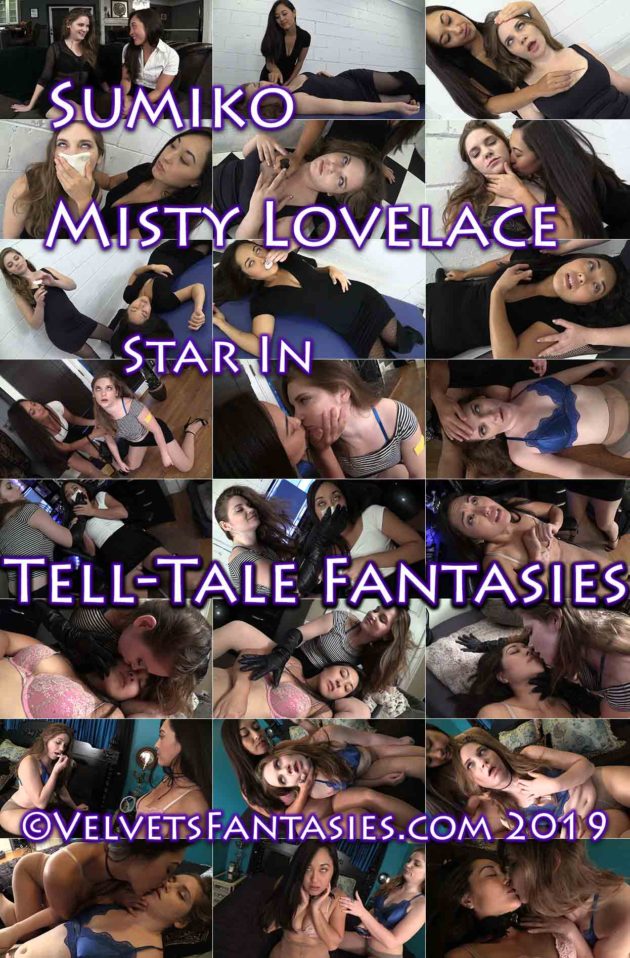 A cold, calculated villain stands over a sleeping Misty in an empty room. She caresses the sleeping beauty, waiting for her to awaken as she prepares a needle. She slowly inserts the syringe in Misty's chest, while intently watching Misty's eyes flutter and roll back. After a few seconds, Misty comes to and on her feet only to be met with a small rag doused in chloroform; and with a wall slide she hits the floor and into her enemies lap. The next time she awakes, it will sadly be her last, as she is met with a knife in the chest after admitting to revealing where the hidden documents are. A kiss goodbye seals the deal, and the fantasy ends.
Cut back to reality, and Agents Misty and Sumiko are reveling over the sexy story, and it's then that Sumiko reveals that she too has had a fantasy or two of her own. We are then shown Sumiko's version of that same scenario, this time with a tragic ending to Agent Sumiko.
The Agents then take turns sharing their fantasies in six different sultry scenarios that always ends with one agent victorious over the other using various types of specialty knock out tools that have not previously been used before!
This movie contains pin-prick KO, chloroform KOs, knife heart stab 'death' with eyes closed, chloroformed pad KO, cyanide 'death' with eyes closed, tape KO, syringe KO, lipstick KO, garrote choke KO, collar choke KO, limp limb manipulation.
Purchase this video at Velvets Fantasies