"The Cat in Not Ready for Prime Time" from Sleepy Superheroines

Sexy Misty debuts as the Cat, an up and coming superheroine. Too bad for her that her first run-in is with the Trickster. After quickly defeating the Cat, Trickster leaves her there for the police and she is arrested for breaking and entering. To pay off the mounting legal bills, the Cat answers a casting call for a superheroine film. What she doesn't know is that the director is actually the Trickster who wants to humiliate the Cat even more and capture it on film. This episode was partly inspired by the Emma Peel Avengers episode, "Epic".
This video features a male/female fighting, multiple chloroform KOs, electric KO, blackjack KO, multiple injection KOs, gas mask KO, over the shoulder carries, cradle carry, butt spanking, tickling, ragdolling, and limp play.
Available Now/Watch Trailer: https://sleepysuperheroines.com/the-cat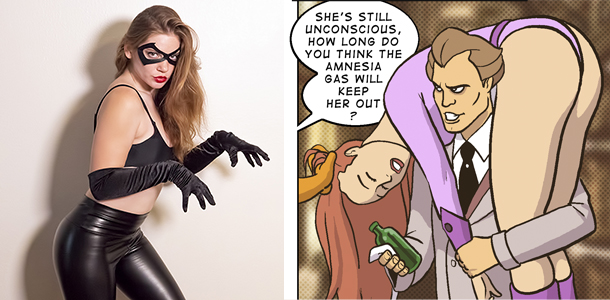 Special until July 31, 2020: Get a free high-res photo set of Misty as the Cat and page two of the Web Woman Comic when you purchase this video. Web Woman was an obscure superheroine from Filmation in the seventies. One episode had the villain knock her out with amnesia gas and then turn her into his housemaid. No joke, this was the actual plot of the cartoon! Sigh, they don't make them like that anymore. Anyhow, mine is a different take on the story after he gasses her unconscious.