"The Interview" from The Battle for Earth
"The Interview" featuring Coco

Wonderous Girl has evidence to suggest Anton "Rock" Cavelli, a known gangster and underworld kingpin, is behind a major sex trafficking ring. To infiltrate his operation, Wonderous Girl poses as a gentleman's entertainer for hire and garners an interview with Anton himself. She thinks she has the drop on Anton, but it turns out to be the other way around. Anton is tipped off and has procured an extremely powerful sedative, strong enough to put any Super down.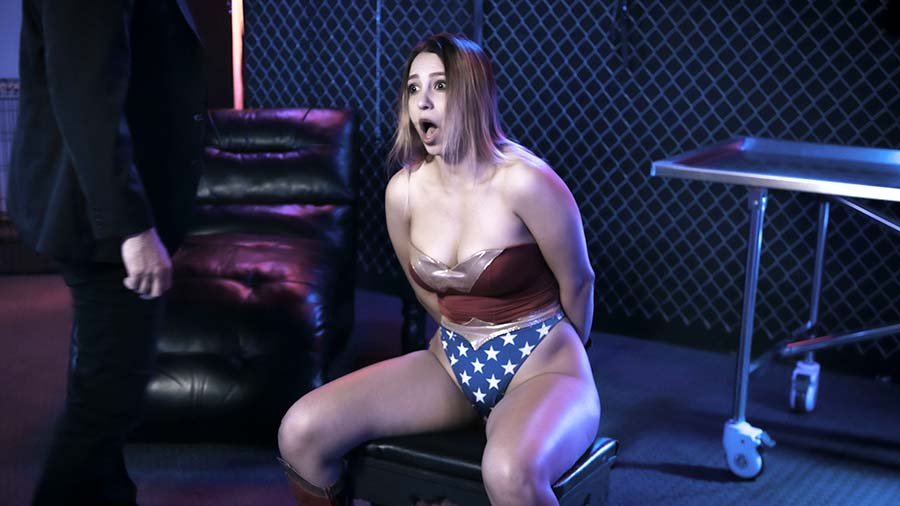 When she comes in for the "interview", Anton plays along and at first Wonderous Girl doesn't suspect anything. She even feels comfortable to drink the wine he offers up. Her senses dulled by her overconfidence, Wonderous Girl shortly finds herself woozy and powerless. She manages to transform but it's too late. She passes out only to wake later wrists and ankles shackled. Anton knows if he can figure out the source of her power and remove it, she will be his to use. Her power and beauty could aid his business and personal desires in various facets. The fact that she's already cost him millions by medaling in his affairs fuels his motivation and creates within him a ruthless determination to break her and remove her powers. It doesn't look like it's going to be a very good day for Wonderous Girl.
Visit SHG-Media or The Battle for Earth for more