"The Long Interrogation of Ultragirl 2" from Cali Logan
Jamie Daniels has been entrusted by her Mob-Boss father to retrieve the location of witnesses in a case against him from Ultragirl by any means necessary.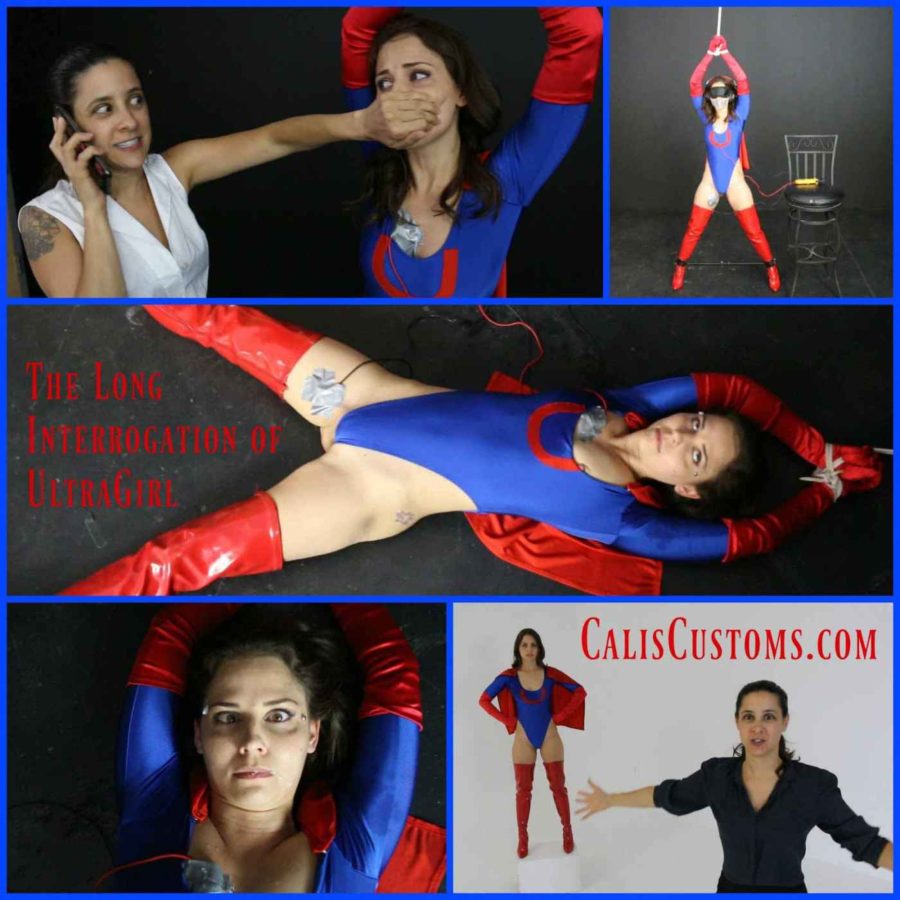 Picking up where her cousin Ayla left off Ultragirl is being held in a Kryptonite laced room. She is bound to a chair with electrodes sending shock waves through her body while blindfolded and wearing earmuffs. Sensory deprivation and over-stimulation all at once.
Her plan is to continue the torture as long as necessary to "persuade" the information out of Ultragirl. Though the pain is nearly unbearable, she does not crack. Jamie is fine with this and leaves her to suffer for a few days.
The excitement continues with bouts of beatings and threats over a series of several days. Ultragirl is finally broken and tries to give Jamie the address of the witness protection house. The problem is, Jamie is really beginning to like the power rush from being left in charge with helpless heroines to play with. She decides to let daddy rot in jail and have more fun with Ultragirl while she takes over the family business.
With no one to tell her what to do, she pulls out one of her favorite toys. The Mind Eraser. She hooks Ultragirl up and turns it one. She convulses and drools as her brain is slowly turned to mush.
Finally, the mindless heroine is seen in Jamie's trophy room. Stuck staring off into space for all eternity.
This 33 minute clip includes interrogation, aoh, bondage, electroplay, sensory deprivation, hom, mesmerize, cosplay, costumes. The 1080hd format can be found in Cali Logan's Power and Peril under the SUPERHEROINE category.
Purchase this video at Cali Logan's Power and Peril