"The Power of Femmes" from Kick Ass Femmes
QUEENS LUNA and CARI are the VIOLENT FEMMES and battle it out for the keys to the Kingdom of Kickass.  Whllst Queen Cari has been ruling with an iron fist (and leather boots) Queen Luna has been training hard to defeat her arch foe and when she arrogantly turns up in her skintight catsuit, thigh high boots and a whole load of swagger the battle is on!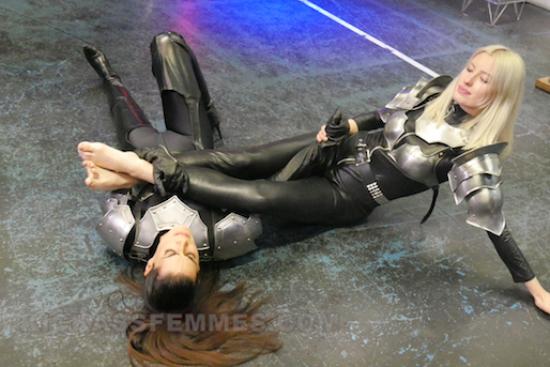 Both girls, skilled in unarmed combat, martial arts and catsuit chic are in a league of their own, they're untouchable and they launch into violent fight action filled with high kicks, powerful punches and gymnastic karate.  It's intense but there's no clear victor so they get loaded with heavy weaponry and continue the high octane violence but these girls are the toughest of the tough so it's back to the intense martial arts back and forth and one of these Queens will live to rule another day… but which one?  Intense, powerful, FF action in catsuits and boots.
Purchase this video at Kick Ass Femmes