"The Right Drug" and More from Jacquelyn Velvets
The Right Drug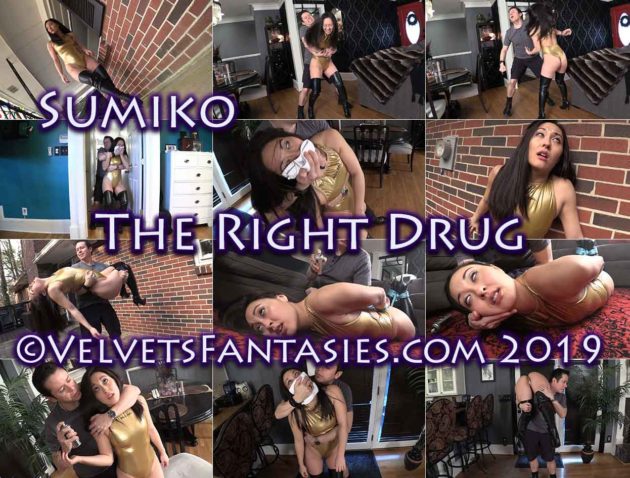 Starring Sumiko and Sleeperkid
Heroine/agent Sumiko makes her way into a known crime lord's home only to take a sudden reverse bearhug from her target (played by Sleeperkid). She quickly reverses his grip, however, dropping him with a massive knee to the jaw! Assuming he's down and out, Sumiko explores the house…but SK comes to, arming himself with a chloro-soaked rag as he sneaks up on the unsuspecting agent. She struggles as he drags her into the living room, but the chloro eventually does its job, rendering the Japanese fighter completely unconscious. SK leaves the scene, acting as bait as Sumiko comes to. She goes outside, following his trail, but a sudden volley of sleeping gas bursts weaken her enough to get cradle carried away by her adversary! Minutes later she's bound and trapped. SK introduces her to a brand new sleepy chemical bound to her DNA: designed to drive her nearly insane with a deep lust for it…even though its repeated application sends her deeper and deeper under his suggestive (and sleepy) spell. He releases her after she gives in to its effects, laughing as he sprays himself…driving Sumiko to press her body against him, her face buried into his skin as she begs for more. He eventually hands her the spray and gives her the option to flee, but Sumiko can't resist the sedative and begs to be put out with it. SK obliges with a soaked rag, knocking Sumiko out one last time…carrying her off as his laughter rings throughout his lair.
This movie contains chloroform KOs, gassing KO, multiple sleeping spray KOs, bondage, cradle carry, over the shoulder carry, limp limb manipulation
Purchase this video at Velvets Fantasies
---
Two Against the World
Starring Jacquelyn Velvets and Galas
We fade in on a terrified Galas, making her way and breaking into an empty house. Moments later we see agent Jacquelyn Velvets tracking her down. She finds Galas in the bedroom and draws her weapon, aiming it at her seemingly horrified prey…until the two embrace and lock lips, emitting sensual moans as their hands explore each other's bodies. Turns out the two are assassins who worked for the same agency…one so vile that Galas decided to escape, with the agency sending her lover to bring her back in! This leads to a tantalizing series of twists, sneak attacks, betrayals, multiple knockouts, and more…until a final interrogation scene leads to a near-death, and an overwhelming and loving revival. In the end, both ladies decide to team up and take on the very agency that sent Velvets after Galas…the same agency destined to send a barrage of killers to take the two lovers OUT. Armed with an arsenal, Galas and Velvets vow to take them all down…as our scene fades to black.
This movie contains sleeper hold KO, electrocution KO, punch outs, belly punching, neck pinch KO, body scissor KO, taser KO, body piles, bondage, choreographed fighting, kissing scenes
Purchase this video at Velvets Fantasies
---
Virtually Done For
Starring Jacquelyn Velvets and Nyssa Nevers
We fade in on two deadly agents (Jacquelyn Velvets and Nyssa Nevers) as they listen to their superior's instructions concerning a special VR demonstration. The two agents are to compete against each other in several short combat segments, and are instructed to take each other down using any means at their disposal. The eager and competitive co-assassins go at it tooth and nail, getting the jump on each other and wearing each other down until a final coupe de grace ends the round. The methods are brutal and varied, leading up to a final shootout that leaves Nyssa finished and Jacquelyn victorious…until her boss sends her back to reality with a final and lethal attack!!
This movie contains neck snap deaths, stabbing deaths, strangulation deaths, death stares, over kill neck snaps, pulse checks, body piles, twitching, limp limb manipulation
Purchase this video at Velvets Fantasies