"The solar plexus is Jane's weak spot" from FemaleKicks.com
Clip includes punches, choking and baton punches.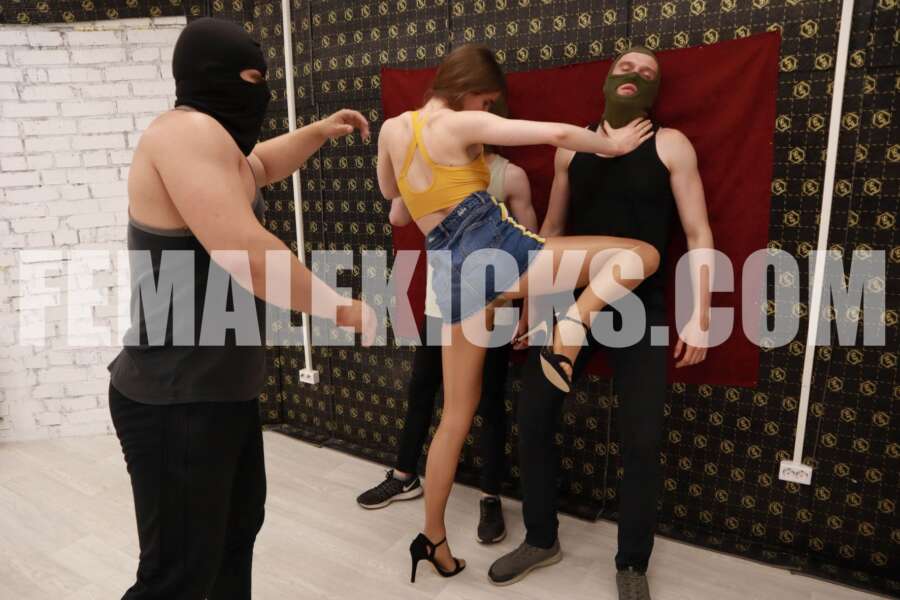 Full HD (1920-1080)
Product length: 20 minutes
Language: Russian with English subtitles
Custom clip request:
As always, it will still be a stomach punching focused movie, and follow my traditional punching style requirements.
Storyline is not my priority, punching style and actress' acting are.
Jane's hands will be restrained from behind by a handcuff first. This should be same as in my last custom 'Jane tries to free Jessica'.
Small fight at the beginning.
In 1st scene she is held by one guy from behind, and punched for 4~5 times. Same as before, first 1~2 punches are not right in the solar plexus area so she doesn't react too much suffered. But after that the puncher realises her softest spot is stomach, and touches her soft stomach for couple seconds then suddenly punches right in there. From now on the real suffering reaction begins. And at the end of the scene she falls down on knees burring her forehead down onto the floor.
In 2nd scene she is held by two guys and 2~3 poundings with the rubber bat. Each pounding causes her bowing her body forward. The last pounding causes her spitting water( to the front but not into the sky). And then she falls down on knees burring her forehead down onto the floor.
In 3rd scene she is on her knees, splitting her legs( I want to see her white underpants at this moment, please no black), no hand cuff. Two guys stand on the sides, each press one hand on her shoulder while the other hand pulls her one arm towards aside. Due to the position Jane's stomach is a little bit stretched so more flat. The puncher is also on his knees so that he is at the same level to still punch her in the stomach. There will be 5 punches in this scene.
Punch 1, puncher uses one hand to firmly hold Jane's throat, and after punch he still hold it. So jane can't bow her body to absorb the impact and pain, and we can see her facial expression clearly.
Punch 2, puncher uses one hand to firmly hold Jane's throat, and after punch he release it, so Jane can bow her body forward.
Punch 3, puncher lifts Jane's face by pulling up her hair( I hope this won't hurt the actress), then punch.
Punch 4, puncher uses rubber bat.
Punch 5, puncher uses rubber bat. Jane spits water. 2 guys release Jane. She holds her stomach, burying her forehead down onto the floor.
In 4th scene, she stands, and is hands-tied onto something.( You can use the gym equip as in Jane tries to free Jessica, but this time please make sure Jane's arms split up to two directions.)
Repeat the 5 punching styles in 3rd scene. Finally, she passes out and hangs on her two arms with bent legs and bowing upper body.
This is pretty much the whole storyline, even though there is barely some story….. As always, there're several noting points as below for your info.
Last time Jane acted nearly perfectly. Only two things need to be improved this time. First is facial expression. I don't prefer actress closing their eyes. I'd rather they open them wide like the attached clip called facial expression.mov. Second is actress's feet off floor. When I said I wanted to see their feet off the floor I meant the impact of the punch brings them off the floor but not for after each punch. Please find attached clip called jumping reaction.mov to understand what I meant. I know this must look funny to you but I really like it……. Can you try to copy these in your way please? Even just a little bit is great 🙂
Same, no 'ahhhh' sound, only 'ohhhh' and 'oooooffff' sound. Jane did it quite well last time. Please keep.
Please reduce the questioning lines, i.e. where is joker, etc. I would like to hear only some lines, and all of them should be about 'fragile stomach' 'weak spot is your stomach' ' We are going to teach your poor stomach a lesson'. And please don't use the word 'belly', but only stomach and solar plexus.
Please make sure when punching, the guys don't make any sound so that I can only hear the girl's moan.
Please use heavy sound effect for punching, and differ the punches of fist and those of rubber bat. The sound of rubber bat should be even heavier.
Possible to shake the camera when punching? Give me your idea.
So only one more thing to note is that please try to minimise the time of shooting the guys without Jane in the camera too. I know movie needs different camera angles to tell the whole story but I prefer seeing more of jane's body rather than too many close looks of the guys' faces. Please sometimes keep storyline developing with guys' lines being heard but the camera is on Jane.
Hairstyle doesn't have to be exactly the same but must be tied and won't block Jane's face when she is punched.
Camera shake should always be used but shaking level can vary per the impact of the punch. I'm thinking the last punch in every scene should be shaking the most, reflecting the puncher has lost his patience and uses his full power trying to knock out Jane.
Regarding the jumping, only use it for those knockout punches(I.e. last punch in each scene except 3rd) . Further more, it is too high of a jump in the clip I sent to you. Just a tiny jump is good enough, and more natural. One thing to note, to make these small jumps look more convincing, let the guy do these punches in the uppercut way to the solar plexus. That makes sense in terms of physics, right?
Plus, since you can reduce the appearance of the guys faces, it has become not important to reduce the lines. Let's consider adding in some reasonable lines such as 'who sent you here', 'what's your plan to stop us', etc, to make the storyline more natural. Sometimes Jane replies with some swearing words and a spit to the guy's face( classic looking-for-a-punch style). And sometimes, Jane can reply with longer sentence but is suddenly interrupted by a punch. Can you come up with some lines like those for me please? At the same time, also keep those lines of threatening Jane about knowing her weak spot is her stomach and teaching her stomach a lesson, etc.
The small jump happens upon the last punch of scene 1, scene 2 and scene 4. So three of them in total.
And about the duration, can you probably fill in some close looks at Jane's legs? Maybe use camera swiping from her feet to thighs. Other than this I would like to have some fighting back and forth at the beginning to connect with 1st episode. Maybe show some strength of Jane at first to have a contrast to the peril later?
Speaking of feet, one thing I forgot to mention about the acting was, when Jane's in pain, bowing forward and bending legs, please don't let her lift the heels off floor. And in my last custom video I really liked the camera angle from bottom shooting up to see Jane's underwear when she's punched. Do couple of this in this video please.
Purchase this video at FemaleKicks.com