The Two Batgirls (Preorder)

PREORDER HERE
http://www.superheroinelimited.com/the-two-batgirls
Based on hundreds of surveys I have condensed down the information into two specific films that will be available to purchase. The details below were the majority vote.
PREORDER MINIMUM BUY IN: $40
DELIVERY DATE: END OF 2020, UNLESS AN ACT OF GOD STOPS ME. 
I want to include something special for preorder customers, SURVEY linked with purchase will make final specific selections on film (Preorder special content, how she is unmasked, etc). After purchase click on download button to get redirected to Survey.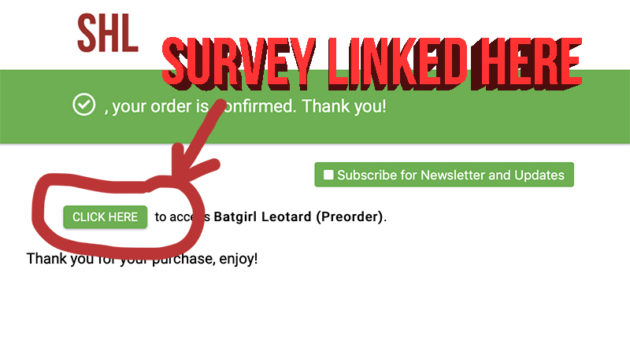 Which ever film gets 60 Orders first becomes priority and will be edited, shot and shipped first. If the amount of orders exceeds 60 the more things that will be included in the film: (amount of bad guys, maybe she gets taken by 3 villains at once etc).
I will also let the price of the preorder be modifiable if you would like to contribute more to beat the other team to the finish line.
If film(s) does not secure anywhere near preorder minimum amount (60 Orders) everyone who has preordered will be refunded.
Bodysuit (No Hosiery) Preorder
Preorder Details
Actress: Ashley Lane

Boots stay on

Normal human bad guys

Scene of attack: Warehouse (Backup Location: Home Invasion)

Hair Preference: Actress Natural Hair Color
Guaranteed in film
Unmasking scene

Costume destruction
Costume: The costume will be similar to Lee Carls Batgirl film but not a copy, as I don't want to copy and paste the work of other directors and producers out there out of respect to their original takes on the genre. The bodysuit will be built custom fit for the actress. Mask will be like one in photo posted above.
---
PREORDER HERE
http://www.superheroinelimited.com/the-two-batgirls
Leotard with Hosiery
Preorder Details
Actress: Undecided (New Actress)

Bad Guy: Its a literal 50/50 spilt between Super Villain and normal men (final vote survey is provided after purchase)

Boots: 50/50 spilt (one will stay on, one will come off during assault)

Scene of attack: Warehouse (Backup Location: Home Invasion)

Denier of Hosiery: 20, color nude

Hair Preference: Actress Natural Hair color
Guaranteed in Film
Unmasking scene

Crotch of hosiery will be torn open, hose stay on in film
Costume: The costumes look is undecided, will be a leotard with pantyhose. Mask is one posted in photo above.
---
Amount of Preorders until Green Lit
Bodysuit: 27%
Leotard: 15%
Last updated: March 11th at 9PM
---
And as always, Uninvited films still on sale (I need to buy some expensive hard drives, help a henchmen out)
http://www.superheroinelimited.com/limitedsale
Most recent release: