"There Will Be Pain" from SHG-Media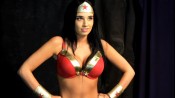 [The following is a guest review from saxman314]
So I just saw the new vid from SHG Media with the chick from the Power Play video. So this one was definitely more betterer in a bunch of ways. [Read saxman's review of the new video There Will Be Pain below…] 
The buildup was pretty good. It starts off with her taking down some thugs in a scene that's somewhat drawn out… just her pretty much wailing on the three guys for a while while talking shit.  I liked it, because it's always great to see the heroine in power before it's stripped away. Anyway, afterwards, she goes home and has some creepy stalker dude in her room, apparently, while the camera gives great creepy stalker shots of her sweet, sweet posterior. She has a dream in which a villain messes with her in her secret identity, though he knows she's Wonder Girl. He basically threatens her and shit talks her, which is nice. She wakes up and we find out that it was definitely an actual villain who had actually visited her dream.
There's another similar scene in her Wonder Girl outfit which includes some more humiliating talk and touching. Excellent stuff. After that, she has an epiphany and heads off to confront the villain. Her sister Liberty Girl phones in (no cameo) to tell her a secret way to beat the villain (didn't work… lol) and she finally confronts him. There's some back and forth, and EXCELLENT shit talk from the villain… seriously, I love that guy, just from a pure dominant perspective, since I love telling girls what I'm going to do to them before I do it… Anyhow, she winds up ragged out and bound to a frame, where-in we have the advertised real pussy paddling. I cannot overstate how much the crotch blow crowd will love this video. Really. Aside from this lengthy, well-shot and exhaustive scene, there are cunt busters throughout the video… it's something of a theme, and for all this girl's lack of acting ability, she sells the peril.
So, after that, the villain frees her and then transports her to a warehouse where she appears, already beaten and stripped of her power belt, on the floor in front of the three goons she beat at the beginning of the video. Sweet, sweet revenge. It goes about like you'd think for her, considering this is the actress whose "R-rated" scenes cut from the first vid were the source of its controversy and almost led to it not getting released. Ergo, she gets her ass handed to her, lots of crotch blows, crawling, rolling around in pain, (very) light fondling. The ending was underwhelming… I won't spoil everything, but basically, there's no nudity or forced sex, so don't get your hopes up.
I wanna make sure I'm fair and complete, so here's how I'm breaking down my reaction to this video:
Heroine dialogue: she's not exactly ready for the theater, so… not great, but there were only a couple parts where you could see her remember a word and say it after her phrase was done. LOL
Heroine sex appeal: Fire. That is all.
Heroine selling the peril: Very good. Her body language was convincing, even in the scenes where the beating was NOT actually real (just the fact that this is a distinction in this video makes it a must buy for me). Her voice is not obnoxious or anything, so there's that.
Villain dialogue: well written, well delivered… best part of this flick for me, though probably not for everyone
Villain look: Meh. Whatever… regular lookin' dude… But he's a modern day wizard, so I guess that's fair.
Set design: Girl's home was obviously someone's home. Convincing. LOL. The prison was also obviously not a prison or dungeon, but it was set up well enough that you'd have to be a douche to criticize it in this kind of video. TBH there was a scene towards the end where she's bent over a familiar structure from one of my all time favorite movies… the break in the suspension of disbelief notwithstanding, that was an exciting moment for me. The warehouse was a good setting, as were the hallways and opening outdoors scene.
Script: Great ideas, cohesive story, entertaining
Production: I'm not too well-versed in this stuff, but it was good IMO. I don't feel like it detracted from the movie at all, which is about what I look for. Was it NGC quality? No. But it was solid. Dialog audio could've used more compression, there was a bit too much range between loud and soft, and sometimes the music/foley were too loud for the dialog, but overall it was good.
Peril: Fucking excellent. Really. If you love a good heroine beatdown, this is your flick.
Sexual content: as far as this genre is concerned, there is little to none… no nudity, no orgasms, very light fondling. The exception, of course, is the crotch paddling, which was worth the price of the flick for me.
TL;DR: The peril in this movie is what it's about. It does that. It does it well. It does it extensively. For me, it was a hit.