"Too Clever by Scarf" from Femme Fatale Fight Club
Check out our latest release: TOO CLEVER BY SCARF.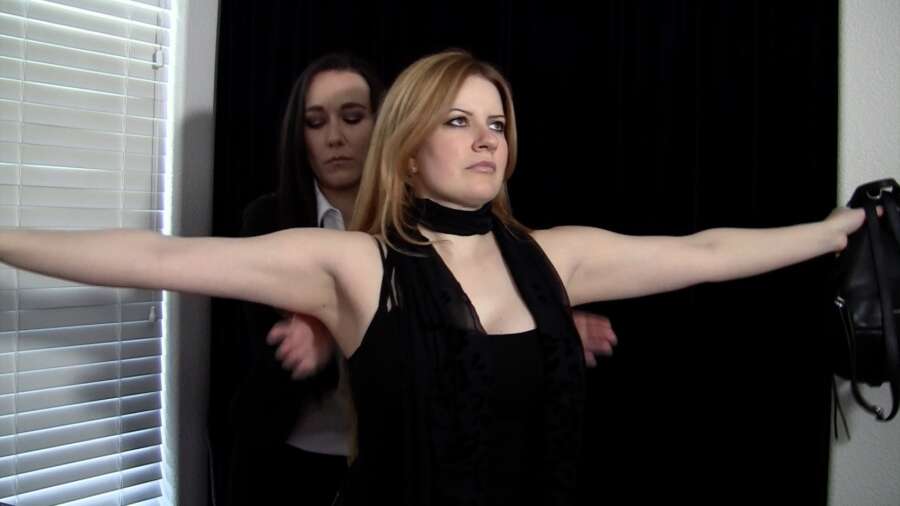 BASED ON A CUSTOM SCRIPT
Four separate battles!
Deadly agent Jacquelyn Velvets arrives at a top-secret research facility posing as an interviewee for a job, but her real mission is to steal a file containing highly sensitive data. It won't be easy, though – the entire building is staffed by Sinn Sage clones.
Realizing she'll be searched on arrival and when she leaves, she conceals a thumb drive in her scarf. The clone at the entrance searches her bag and pats her down, but ignores the scarf. She's in!
Jacquelyn quickly finds a workstation and sets about locating the file on the facility's network, but is interrupted by a second clone who asks if she has clearance to be there. A smooth operator, Jacquelyn gets up and offers to show her pass, but instead delivers a swift belly punch followed by a devastating uppercut. With the clone out on her feet, Jacquelyn moves be-hind her and puts her in a sleeper hold until she loses consciousness, then drags the body out of sight.
Jacquelyn returns to the workstation and continues to search for the file. A third clone arrives – less hostile than the previ-ous one – and asks if she needs help. Jacquelyn moves out of the seat so the clone can take a look, then takes out a garrotte and chokes her to oblivion. Another body is dragged away…
Now running out of time, Jacquelyn frantically tries to find the file, but turns to find a fourth clone has pulled a gun on her. She backs up to the clone as ordered with her hands raised, but then turns suddenly, knocking the gun aside and hitting the clone's chest with a disabling four-knuckle strike, followed by a belly punch and chop to the back of the neck. With the lone brought to her hands and knees, Jacquelyn kicks her in the ribs to flip her onto her back, finishes her off with a neck pinch, and again hides the body.
Back at the computer, Jacquelyn finds the file, transfers it to the thumb drive and hides the drive in her scarf. Her mission accomplished, she returns to the entrance where the first clone searches her again – and again fails to find the drive. It looks like Jacquelyn is home free… But as she's heading out, the clone grabs the ends of her scarf and pulls her back using it as a garrotte. Jacquelyn is pulled down onto a sofa, with the final helpless realization that even a top agent underestimates clones at her peril.
Includes the following:
• Disabling strikes
• Belly punches
• Neck chop
• Neck pinch
• Sleeper hold KO
• Long choke-outs with garrotte
• Rolling eyes
• Eye flutter
• Limp body