"Training Room 2" from Next Global Crisis
Training Room 2, like its predecessor, keeps the storyline to a bare minimum and focuses on the most basic elements involved in a superheroine fight scenario.  While there aren't really any significant plot twists or an examination of character motivations, there is enough of a focus on staging effective fight scenes, very good acting and excellent visual quality to make this short video worthwhile for fans of female-on-female superheroine fighting action.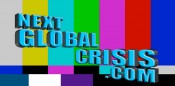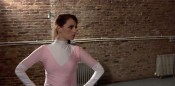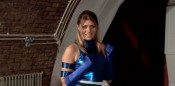 Where Training Room 1 presented the sexy heroine Suki Deluxe and her nemesis, Sebastian Luner, this video pits two new opponents against each other—Magenta and Bluebird.  Bluebird is the more experienced heroine of the two, and wears a very nice, ninja-inspired, blue outfit.  Magenta is a rookie and has basically no fighting experienc, although she does posses the super power of "future sight," which permits her to glimpse a few moments of the future (if I understand correctly).  It's kind of a shame, in my opinion, that this power isn't utilized in this video as it presents a lot of interesting potential opportunities, and I hope we get to see it used in a future Next Global Crisis movie.
The two fighters engage in combat, trading barbs with one another before getting into the action.  Immediately, we can tell that NGC has chosen a couple of good actresses for the roles, and they sell their lines convincingly.  The action is choreographed and filmed well, and a couple of blows actually seem to make a real impact because of the acting and sound effects.
Each fighter gets a chance to dominate a little bit here and there, but only one can be the victor, and the winning heroine taunts the loser, demanding her to verbally humiliate herself before being released from a painful submission hold.
So, basically, if you enjoy the "practice" scenario of the Training Room series from Next Global Crisis, you should like this video as well.  If I had to find a flaw here, I think it would be that there is somewhat of a lack of dramatic tension, as the stakes are relatively low compared to other superheroine videos.  But, perhaps that should be seen as a positive: with Training Room 1 and 2, we get a behind-the-scenes glimpse at what goes on during training sessions for superheroines, and I do like that idea.  So give Training Room 2 a look, and leave comments below!
By the way, Next Global Crisis has an excellent behind-the-scenes blog where you can see some raw video of video shoots and rehearsal sessions, as well as some blog entries about costumes and other aspects of superheroine video production.  Very interesting stuff if you're interested in the making of these videos.