'Ultimatum" from The Battle for Earth
Solaria is investigating an illegal laboratory when she is confronted by none other than Lena Luthor. This is not the first time the two have faced off and Solaria has delivered humiliating defeats to Luthor on multiple occasions. This time is different. Lena forces Solaria to participate in 3 challenges, threatening to release a toxin into the water supply if she doesn't comply.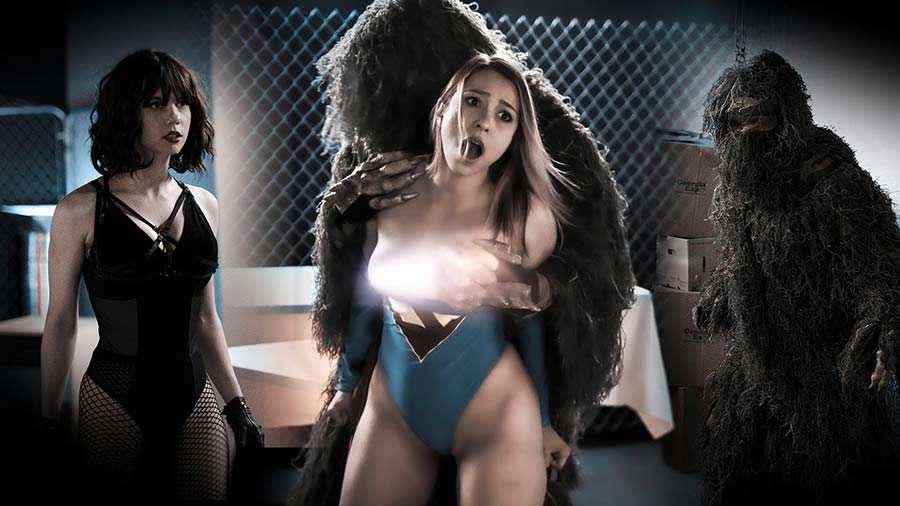 The first is a mutated creature that feeds on kryptonian DNA while simultaneously releasing an aphrodisiac pheromone. If she's able to defeat the monster, she'll then have to face off against Patient 0 and Patient 1, two test subjects from Lena's failed program which attempted to modify and enhance humans through DNA alteration. Finally, if she survives, Lena herself will face-off with a special device that predicts Solaria's fight moves, giving Lena the advantage. Lena is further prepared just in case Solaria manages through everything with a surprise Solaria can't possibly defend against. Find out how Solaria fares as she realizes she's in way over her head. 
Contains: male/male/female combat, female/female combat, monster/female combat, face punches, belly punches, kicks, knees, upper cut, backhands, slaps, bear hugs front and rear, low blows, headbutts,  hammer fist, ass slap, cape swing, cape removal, laser eyes, costume transformation, electrocution, multiple power drains from heroine's chest, butt, and power center, forced BJ in two positions, forced fucking in 2 positions, multiple involuntary O's, heroine shown after monsters cum on her but not the act of.
Purchase this video at The Battle for Earth