"UltraGirl" from Rye and SHG-Media (Reviewed)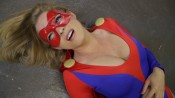 UPDATE: Reviewed by Sidekick! Wow, its been a long time since I was able to write a review for one of Rye's efforts, and I think UltraGirl is without a doubt his most brutal (in a good way) film ever. Check out my brand new (spoiler-filled) review below, and feel free to leave your feedback.
[Spoilers] This a long film, so as far as the review, we'll stick with the meat and potatoes of the action and let the story speak for itself. On a mission to save her kidnapped lover, Ultragirl approaches a building. She easily shrugs off a hail of bullets and incapacitates the gunman. She enters the building and finds herself weakening after being exposed to a Kryptonite like substance. Turns out it's more of a mental peril as the rocks are really not there but the rather large henchman from the trailer is.
He lands a punch that breaks Ultragirl's mask, so she removes it. A long battle follows and Ultragirl is either totally in control or totally getting the snot kicked out of her. There really isn't an in between. Throughout the exchanges they have, Ultragirl is reverse bearhugged, slammed into the wall, hit with stomach punches, chocked with her cape, trapped in a frontal bearhug, is throat lifted, given a back breaker, and loses a test of strength.
Ultragirl is temporarily able to incapacitate the bad guy but that's when his female counterpart arrives. And there is nothing back and forth about their battle. The evil henchwoman dominates almost the entire fight and things go from bad to worse when the bad guy awakens and joins in. The baddies take turns holding Ultragirl and they pound on her for basically the last third of the movie. She is hit with multiple low blows, knee lifts, and stomach punches. She also gets choked with her cape for a second time and parts of her costume are destroyed.
She is left to die on the floor, this time with real kryptonite like rocks on her body. We watch her breathe for a little while and after a few moments, she breathes no more. Is she dead? Sure looks like it and I think Rye has confirmed as much in the comments section.
This had all the look and feel of a classic Rye movie but as I mentioned above, the brutality was amped up higher than I've seen before in one of his films. When the bad girl enters at around the 17 minute mark, Ultragirl gets stomped on (literally and figuratively) until the end of a film that runs slightly over 30 minutes.
I very much liked the entire cast. Just like when she worked with The Battle for Earth and Heroine Legends, Holly was her spectacular self. Personally, the character I enjoyed the most was the female villain. She is beautiful but has a real intimidating presence about her. I hope she becomes a regular in Rye's productions. She's really a tremendous actress.
I see no reason if you're either a peril or Rye fan to not pick this up. Just don't wait around for the happy ending because it never comes. There's also a little announcement that should excite fans at the end of the credits. Should be a fun October.