Uninvited 5 (Ashley Lane) STANDARD EDITION
Purchase with Link Below
http://www.superheroinelimited.com/uninvited-5/
Preorder customers: Check your email for either 1. The Download to the film or 2. A link to purchase the film at a discount.
Everyone else: Regular and Preorder Editions are available for sale.
If you still would like a chance at purchasing the preorder edition which includes a hardcore scene that is not in the film I will offer this temporarily as an option for 1 or 2 days at a higher price of $50, purchasing the preorder edition provides you with an immediate download of the film. The film will cost $40 without the additional content.
The scene featured in the preorder edition occurred between takes where the two actors couldn't be separated and kept going despite the fact we were on a temporary fifteen minute break. This won't be offered again outside of this promotion. It also contains other content behind the scenes, a few additional takes and a lot of shots of Ashley just being adorable.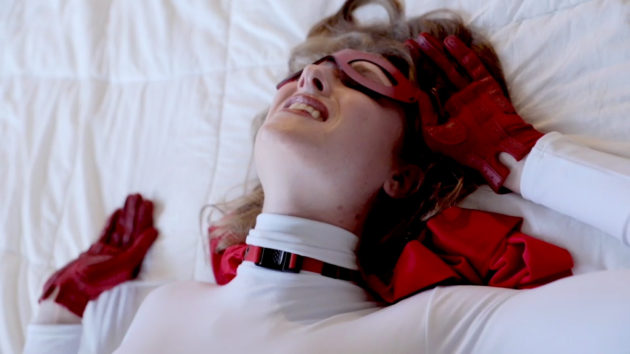 Price: $40 ($50 for Preorder Edition)
Length: 1 Hour 2 Minutes
Size: 540P 2gb / 1080P 7.84gb
Starring: Ashley Lane
Synopsis
Red Vision has a guilty conscience. Both the Blue Avenger and Blue Vixen were harmed at the hands of Jack using Red Visions SuperHuman Fail-Safe device. Originally intended and invented by Red Vision to de-power a super-powered individual for a worse case scenario, she helplessly trades the device for her own life after having been captured by Jack and Sandman. Sandman uses his powers to enter Red Visions mind, using her worse fears against her. Jack having had his fun decides to kill Red Vision, in trade for her life she provides him with the weapon.
Blue Avenger wants revenge, Red Vision offers to help to clear her guilty conscience. Both agree to meet at Jacks but only one of them makes it. Red Vision has a score to settle with Jack. Jack isn't amused his one moment of kindness has come back to haunt him. 
Character Information
Red Vision
Skillset: Intelligent, Inventor 
Powers: The ability to erase memories (Not featured in film), the ability to take control of another's physical motor functions (Only through eye contact)
Strength: Slightly above human strength
Weaknesses: Has all human weaknesses, physical strength sometimes allows for her to take above average in damage
Purchase with Link Below
http://www.superheroinelimited.com/uninvited-5/
Uncut Trailer
https://vimeo.com/superheroinelimited/u5
Password: U5