"Widow's Escape" from Hotfighters studio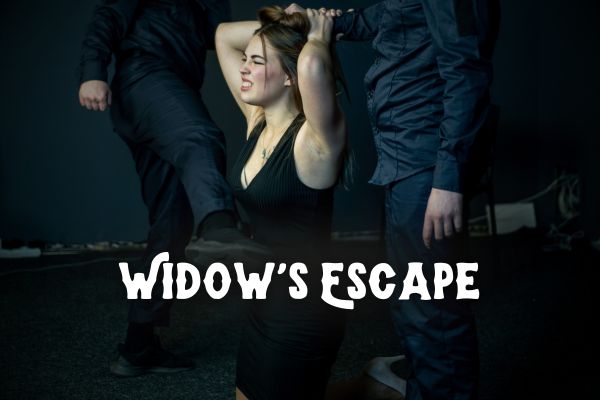 Hello, our esteemed customers!
We are delighted to welcome you back to this forum dedicated to superheroes! It's been a while since we last saw each other, but we're thrilled to greet our customers with brand new films from our studio.
Today, we want to share some exciting news about our latest film that is sure to captivate your imagination. Introducing "Widow's Escape" — a cinematic masterpiece centered around a bold and mysterious superheroine, the Black Widow.
In this film, you will dive into a world of danger, adventure, and uncompromising justice. The Black Widow faces off against a nefarious organization that has kidnapped her partner. However, nothing can deter her—being bound, entangled in intricate plots, or even facing the formidable strength of her enemies cannot break her resolve.
This film offers a unique experience, filled with dynamic action sequences, breathtaking acrobatics, and a gripping storyline. You will immerse yourself in a realm of secrets and revelations, uncovering the mysteries of the past, and admiring the unmatched courage of our heroine.
"Widow's Escape" serves as a reminder of the power and valor residing within each one of us. It will inspire you to overcome challenges, fight for what you believe in, and never surrender in the face of adversity.
Don't miss this extraordinary opportunity to delve into the world of the Black Widow and embark on thrilling adventures alongside her. Join us at our theater, gather your friends and family, and let your emotions run wild, as "Widow's Escape" is guaranteed to leave you in awe.
We eagerly await your presence and hope that this film will become a captivating addition to your cinematic experience. Get ready to be amazed by the extraordinary journey of the Black Widow in "Widow's Escape".
Full movie – https://hotfighters.com/product/widows-escape/
Immerse yourself in the captivating world of "Widow's Escape" and embark on an extraordinary adventure alongside the enigmatic Black Widow. She infiltrates a den of villains who have kidnapped her partner, confronting relentless danger at every turn. Starting with a gripping interrogation scene, where she exudes strength and confidence in a stunning evening gown and high heels. Breaking free from captivity, she transforms into the irresistible superheroine, Black Widow, ready to take on any adversary. Her quest to rescue her partner leads to intense confrontations, showcasing her incredible combat skills and charisma. Ultimately, she faces off against the Boss of villains, a formidable opponent, engaging in an epic showdown. In this elusive battle, Black Widow demonstrates her power, fearlessness, and unwavering determination to emerge victorious. Immerse yourself in a world of intrigue, battles, and retribution that will keep you on the edge of your seat, eagerly anticipating each moment of "Widow's Escape".